Bermuda Autism Support & Education [BASE] invites the public to join the autism community on the steps of City Hall, Hamilton next Thursday, April 2, to celebrate World Autism Awareness Day. The ceremony, which starts at 12.30 p.m., will also mark the beginning of Autism Awareness Month in Bermuda.
Bermuda will join autism communities around the world in celebrating the 8th annual World Autism Awareness Day, which was established following a 2007 United Nations resolution. It is one of only three official condition-specific United Nations Days and aims to bring the world's attention to Autism Spectrum Disorder [ASD], which affects tens of millions of people worldwide.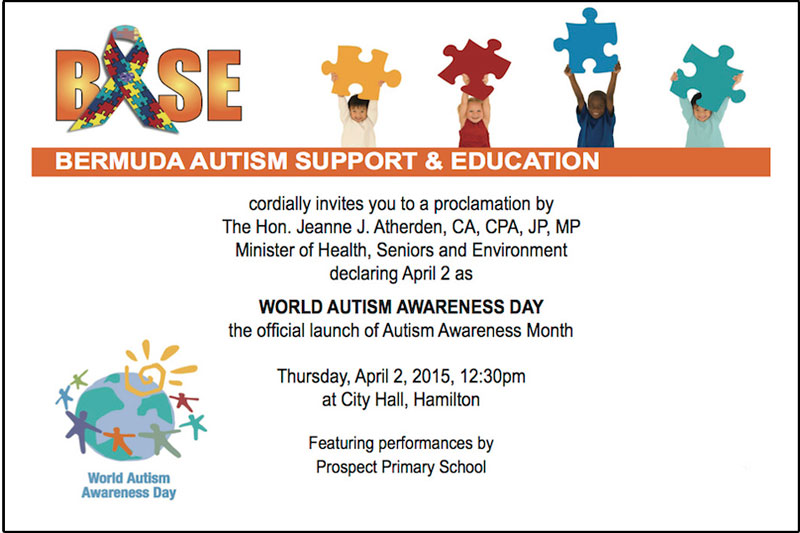 Next week's celebration will see Minister of Health, Seniors and Environment  Jeanne Atherden read the official UN declaration and there will also be a musical performance by the Prospect Primary School. Ahmani Peets, a 12-year-old honour roll student at Whitney Institute who is on the autism spectrum, will also speak, along with his sister Ahmya.
During April, Bermuda companies and organisations are encouraged to mark Autism Awareness Month by joining the global Light It Up Blue campaign. Famous buildings around the world, such as the Empire State Building will be lit up in blue at night to "shine a light" on autism as a growing global health crisis.
World Autism Awareness Day activities help to increase and develop world knowledge of autism and provide information regarding the importance of early diagnosis and intervention.
Additionally, it celebrates the unique talents and skills of persons with autism and is a day when individuals with autism are warmly welcomed and embraced in community events around the globe. For more information, visit worldautismawarenessday.org.
ASD affects over 3 million individuals in the U.S. and tens of millions worldwide. Statistics from the U.S. Centers for Disease Control and Prevention [CDC] identify around 1 in 68 American children as on the autism spectrum – a ten-fold increase in prevalence in 40 years. Studies also show that autism is four to five times more common among boys than girls with an estimated 1 out of 54 boys and 1 in 68 girls diagnosed.
Anthony Peets, President of BASE, said: "Autism is the world's leading pediatric concern. Every 11 minutes a family is receiving the news that their child is on the Autism Spectrum. Our charity is dedicated to awareness, advocacy, and education.
"Autism is not a disease and there is no cure, as it is a neurological and developmental condition. There are four areas that Autism affects:
difficulty with social interaction
speech and sensory needs
love of routines
special interests
"Because Autism is on a spectrum, no one child is the same. There are similarities but many nuances. What we want to change is not those on the Autism Spectrum, but how the world reacts to those with Autism. It is a lifelong issue but, with intervention, we have seen many live their lives independently and make amazing contributions in the world.
"We know that with early intervention, we are able to impact the crucial areas of learning. BASE continues to work with community and government partners to improve the services to families with children on the spectrum. We now have three public primary schools and one middle school with trained teachers and para-educators. The students are assessed and programming is tailor-made and reassessed often as they progress.
"We work to see that these students are mainstreamed into the regular classrooms as often as possible so that they gain the crucial learning skills. Many can cope with the academic expectations with relevant modifications and support. With the use of assistive technology such as tablets, BASE will work to ensure that internet access is available.
"Also crucial to families is receiving the necessary therapies. At present, insurance companies do NOT provide coverage for the extensive therapies that are needed. The cost of a private therapist can range from $85 to $150 per hour with many requiring over 24 hours a week of intensive work.
"Some parents have shared that if their children had any other diagnosis like cancer or heart issues, treatment would be covered. We are pleased that Child and Adolescent Services now have an assessment team enabling diagnosis can be made on-island."
He concluded, "BASE will continue to hold professional development seminars for parents and professionals, and offer to parents that crucial listening ear. We are committed to ensuring that the very best of services exist and, with collaboration and consultation with community partners, we will see that continued positive impact occurs."
Read More About
Category: All