Generals from the United Kingdom and United States recently gave the island's defense force their seal of approval, with Bermuda Regiment CO Lt Col Michael Foster-Brown saying that the visit from senior military figures "heralded a new era of cooperation between the three countries – as well as increased opportunities for Regiment soldiers to train overseas."
Major General Edward Smyth-Osbourne, who commands the British Army's London District and the Household Division, tasked with protecting the Royal Family, explained that the Regiment would liaise directly with his command on areas of joint concern – the first time a formal relationship with a divisional command in the UK has been set up.
[Left to Right] Regiment CO Lt Col Michael Foster-Brown talks to US Army Brigadier General James Taylor and British Army Major General Edward Smyth-Osbourne at Warwick Camp, watched by Sergeant Major Jeff Patterson of Boat Troop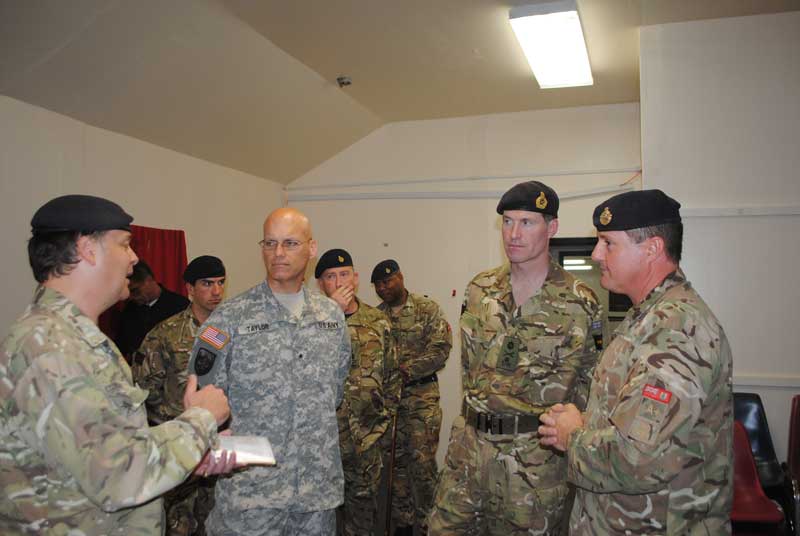 Maj. Gen. Smyth-Osbourn said, "This visit is to cement the relationship between the British Army and the Bermuda Regiment, reinforcing the ties it already has with the Royal Anglians and to look for further opportunities for mutual benefit.
"First and foremost, we will provide one point of contact for the Bermuda Regiment and for the Governor so there will be clarity and continuity. Secondly, we will look for opportunities for relatively small numbers of people to develop their soldiering skills alongside the British Armed Forces."
Maj. Gen. Smyth-Osbourne, who returned to London yesterday, was speaking after he toured Warwick Camp and watched Bermuda soldiers go through their paces on a visit timed to coincide with a similar trip by US Army Brigadier General James Taylor.
Maj. Gen. Smyth-Osbourne said: "The soldiers I've seen are keen, enthusiastic and – above all – a group of soldiers who are prepared to turn their hand to whatever is required in the interests of Bermuda."
Brig. Gen. Taylor, Deputy Director for Strategy, Policy and Plans at the North American Aerospace Defense Command and US Northern Command, a region that covers Bermuda, said his command's experience in security support for major US events like the Superbowl could be helpful, especially as Bermuda prepares to host the America's Cup.
He added that experience working with the US National Guard, which performs similar disaster relief operations to the Regiment, could also be useful.
US Army Brigadier General James Taylor of the US Northern Command and British Army Major General Edward Smyth-Osbourne, the commanding officer of the London District and the Household Division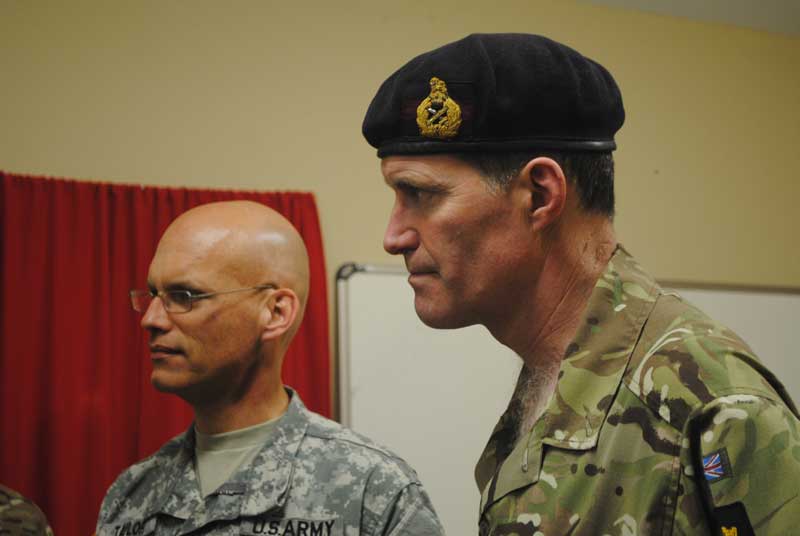 Brig. Gen. Taylor said: "Bermuda's soldiers are very impressive, very professional – they shared the after-action report on the hurricanes last year and it was a phenomenal job they did.
"This Regiment has a great history and heritage and it's something people can be very proud of. I listened to its mission and its organisation and it struck me how similar it is to our National Guard.
"The National Guard could benefit from the experiences the Regiment has had and vice versa."
Col Foster-Brown said: "The visit has gone very well – it's a scoping opportunity with a view to expanding even more what we already do with the UK and US military."
He added examples that could be built on were the secondment of three Bermuda soldiers to a major British Army exercise in Kenya last year and the use of UK instructors in areas like small arms training and explosive ordnance disposal.
And he said a number of soldiers had also attended courses in the US, paid for by the US government.
Lt Col Foster-Brown added: "These visits open up a lot more opportunities, not just for individual soldiers in terms of places to go and things to do, but for the island as a whole.
"This is potentially a way to secure valuable support in the event of a major emergency.
"A Regiment career offers adventure, fun, challenge, the opportunity to travel, acquire skills useful in civilian life, make new friends and competitive rates of pay, as well as a $500 bounty for new volunteers – all while serving our Island home. For more information, call 238-1045 or visit www.bermudaregiment.bm."
Read More About
Category: All