[Updated] A road collision has taken place on East Broadway in Hamilton this afternoon [Mar 26] resulting in traffic diversions in the area.
Emergency service personnel attended the scene and police now have the area blocked off from the motoring public. Details are limited at this time, however we will update as able.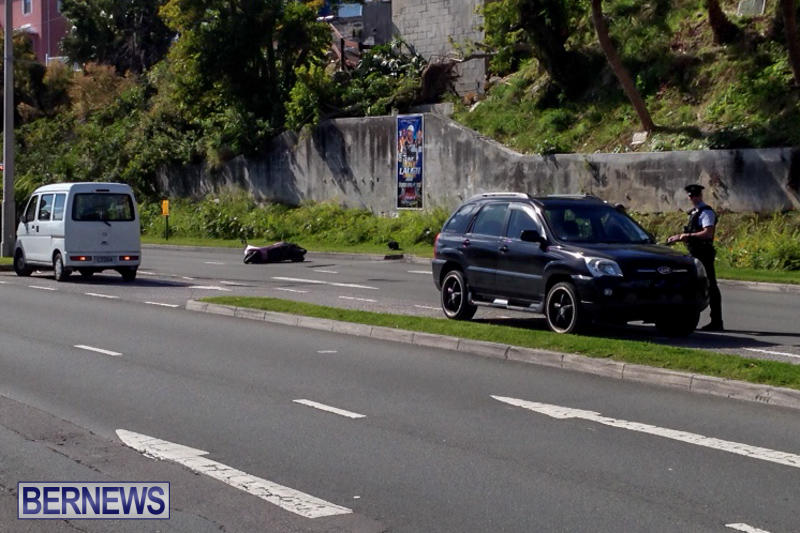 Update 4.29pm: A police spokesperson said, "At approximately 3:37pm today March 26th , first responders attended a report of a road traffic collision that took place on East Broadway across from the Bermuda Underwater Exploration Institute.
"It appears that a 34 year old Paget man was travelling east on said road when it appears that he lost control of his motorcycle and veered into the other lane and collided with a car traveling in the same direction.
"As a result the man was taken to KEMH where he is being treated for head and shoulder injuries. The full extent of his injuries are unknown at this time.
"Police are appealing for witnesses or anyone who may have seen this incident to contact Police on 295-0011.
"We would like to thank the motoring public for their patience at this time. Traffic leaving town is being diverted up Lane Hill. At present motorists are to expect major traffic delays in the area."
Update 4.44pm: An aerial look at the area a few minutes ago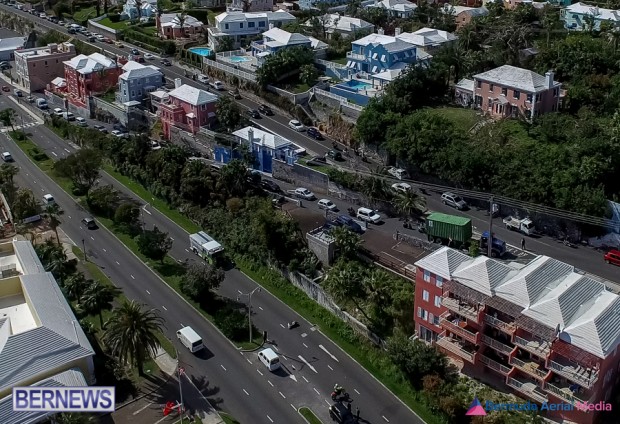 Update 6.20pm: A police spokesperson said, "Motorists are advised that normal traffic flow has since resumed along East Broadway."
Update Mar 27, 1.53pm: A police spokesperson said, "At last check the 34 year old Paget parish man injured in a reported two vehicle collision on East Broadway near to the junction with Lane Hill in Pembroke around 3:37pm yesterday March 26th was treated for his injuries and released.
"Inquiries are ongoing and any witnesses that have not already come forward are encouraged to contact PC Simon Fraser on sfraser@bps.bm or the main police telephone number 295-0011."
Read More About
Category: Accidents and fires, All, News