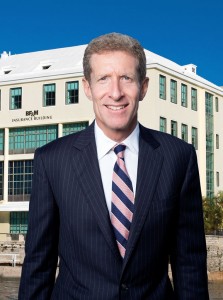 BF&M Limited today [Apr 20] reported shareholders' net income for the year ended 31st December 2014 of $21.8 million, resulting in an annualized return on shareholders' equity of 9.3%. Shareholders' net income for 2013 was $25.1 million.
President & CEO John Wight [pictured] said, "The financial effects of Hurricanes Fay and Gonzalo in Bermuda turned an otherwise great financial year into a good one.
"The net cost to the Company after reinsurance recoveries in respect of these two storms in 2014 totaled $7.2 million.
"Positive earnings from BF&M's Bermuda and Caribbean based core businesses of insurance, investment advisory and pension administration services were achieved despite the seemingly endless recessionary pressures that in 2014 continued to affect the businesses and residents of the fifteen islands in which the BF&M Group conducts business.
"While there has been some moderate improvement in certain islands, it is fair to say that there is a new reality for the economies of Bermuda and the Caribbean for the foreseeable future."
"Diversification, both geographically and by line of business, continues to reap economic benefits for the Group as there is no dependence on any one island or any one line of business.
"This diversification is fundamental to why the Group has achieved such a constant annual return on equity above our competitors in the Bermuda and Caribbean region. With the exception of 2014's return on equity of 9.3% which was impacted by two hurricanes, the Company has exceeded 10% returns for thirteen consecutive years."
Equity attributable to shareholders at 31st December 2014 was $240.5 million. General fund assets totaled $1.1 billion of which $53.8 million was held in cash and cash equivalents.
Gross premiums written for the year were $338.2 million, a decrease of 2% over 2013. Investment income for the year reflected a $20.3 million increase in the value of investments for the period as interest rates and credit spreads fell in during the year increasing the fair value of the company's extensive fixed income portfolio.
Offsetting this was a $17.9 million increase in the value of policyholder benefits as a result of the company's asset liability matching program which limits volatility of reported earnings as a result of interest rate swings. Commission and other income decreased 1% to $39.5 million. Short term claims and adjustment expenses increased by 25% to $27.8 million, mainly due to Hurricanes Fay and Gonzalo.
Life and health policy benefits increased by 51% to $121.3 million, reflecting the increase in the value of policyholder benefits mentioned above. Operating expenses increased 4% to $64.5 million.
The company said, "Earlier in the year A.M. Best announced that it had affirmed financial strength ratings of A [Excellent] to BF&M's two principal Bermuda based insurance subsidiaries, BF&M General Insurance Company Limited and BF&M Life Insurance Company Limited. There is no insurance company in Bermuda writing domestic insurance business with ratings this strong.
"A.M. Best cited "BF&M General's favorable underwriting performance, excellent capitalization, and consistent overall profitability". They further cited "BF&M Life's strong level of capital, consistent favorable operating results and sizeable market share in Bermuda".
A.M. Best upgraded the financial strength rating of BF&M Limited's Cayman based company, Island Heritage Insurance Company Ltd. to A [Excellent] and affirmed the financial strength rating A- [Excellent] for BF&M Limited's Barbados based company the Insurance Corporation of Barbados Limited.
Read More About