Two scheduled cruise ship calls have been cancelled due to the weather, with the Pacific Princess cancelling its scheduled visit for Tuesday, April 28th; while the MSC Divina has cancelled her call to Bermuda on Saturday, May 2nd, the Transport Ministry confirmed.
The Pacific Princess is an occasional caller to Bermuda, and the 594 foot long ship was due to arrive carrying a projected 710 passengers and 373 crew, with this week's cancelled visit the only time this year the ship was due to visit.
The MSC Divina on her inaugural call to Bermuda on April 14, 2015: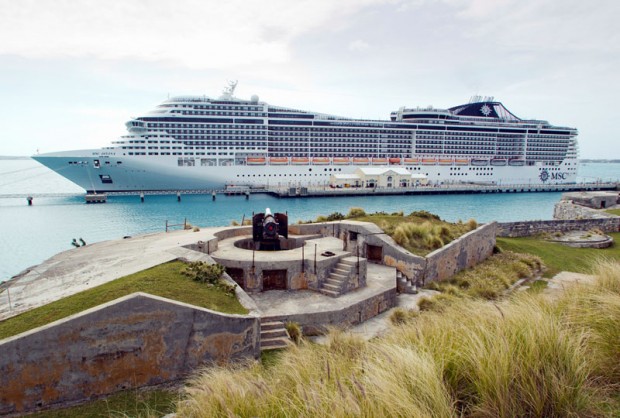 The MSC Divina [pictured above] made her inaugural call to Bermuda earlier this month, and was scheduled to make her second, and final visit for the year on May 2nd, carrying an estimated 3737 passengers and 1751 crew.
The Transport Ministry confirmed that both cruise ships cancelled their visits due to the predicted weather. The Pacific Princess was due to dock in Hamilton, while the MSC Divina was due to berth in Dockyard.
Read More About