[Updated] A town hall meeting regarding the America's Cup and its effect on Bermuda was yesterday [April 21] at the Heritage Worship Centre.
The event included speakers and multimedia aiming to give those in attendance a more thorough understanding of the upcoming event and its ongoing progress on the island, outlining community outreach programs and the expectation of an influx of tall ships into St. George's.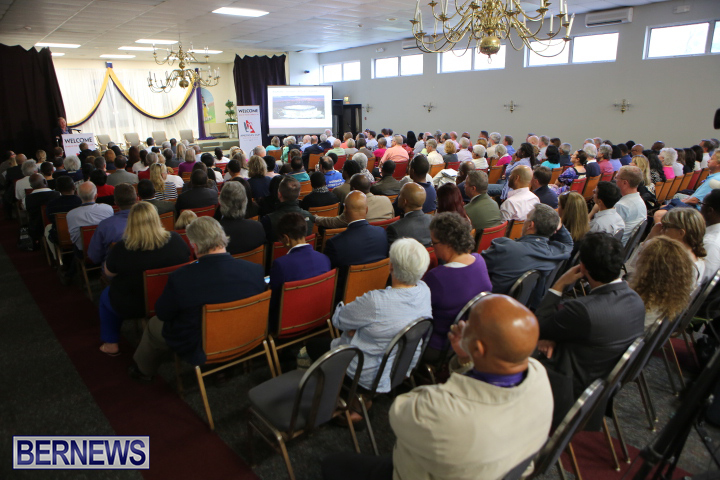 In his opening remarks, Premier Michael Dunkley said, "On December 2, when Minister Gibbons and I had the real pleasure of going to New York City for the announcement of the America's Cup, it really started a ball rolling of excitement in our community.
"The purpose of this meeting here tonight…is to give everyone in the community the opportunity to understand fully what the America's Cup is, what it will mean to Bermuda, and how it's going to take place."
America's Cup Public Meeting – Part 1:
Premier Dunkley then handed the town hall over to ACBDA CEO Mike Winfield.
Premier Dunkley's opening remarks were followed by a video presentation that outlined the merits of Bermuda as the host of the America's Cup, saying that, "Bermuda has been at the pinnacle of sailing for a long, long time."
America's Cup Public Meeting – Part 2:
The presentation lead into an overview of the America's Cup and the ACBDA and its role on the island during the lead up to the 2017 event. The videos above only show a portion of the meeting, we will update with additional video as able.
Following the main presentation, Mr. Winfield introduced other key players involved in the America's Cup, including Minister of Education and Economic Development Dr. Grant Gibbons, ACBDA Chairman Peter Durhager, Sir Russell Coutts, and Oracle Team USA member Jimmy Spithill.
Update Apr 23, 8.44am: We've added a third video covering the town hall meeting.
America's Cup Public Meeting – Part 3:

Read More About