The Bermuda Audubon Society [BAS] and University of Laval – Atlantis Labs today donated a vehicle to the Department of Conservation Services.
The Minister of Health, Seniors and Environment, Jeanne Atherden was on hand to receive the donation on behalf of the Department at the Bermuda Aquarium Museum & Zoo [BAMZ].
The vehicle, a Silverado pickup truck, refurbished by the Ministry of Public Works, is being donated by the BAS in gratitude for the years of support given by the Department of Conservation Services for assisting with the management of the Audubon Reserves and protected species.
Minister receiving the donation from Philippe Rouja of the Department of Conservation Services and Karen Border of the Bermuda Audubon Society.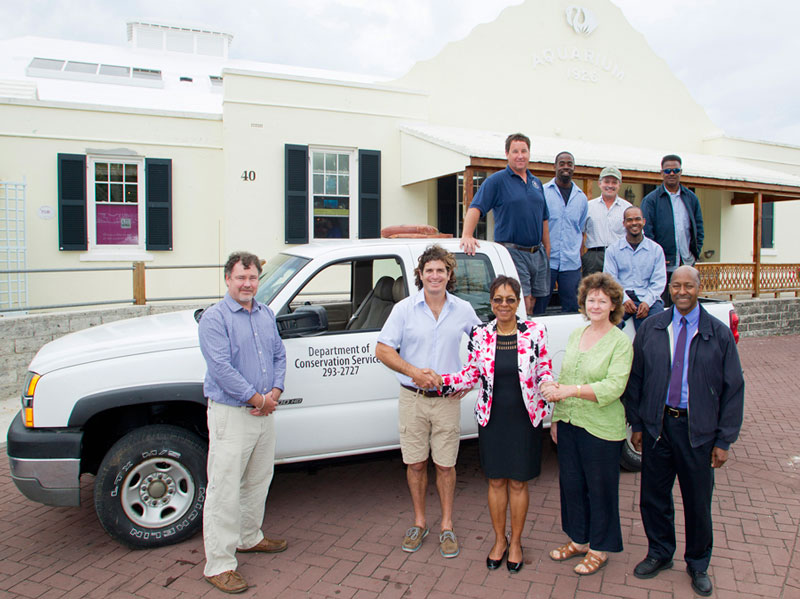 It will be used to assist in the refurbishment of Bermuda's Nature Reserves specifically to pull the department's chipper, carry plants and equipment. The vehicle will also be used to assist with the safe transportation of injured wildlife such as turtles to BAMZ for treatment.
The truck is not new at 10 years old, but has been in storage most of its life and is in good condition. It is a replacement for a recently retired department truck so it will not increase to the Government's fleet of vehicles.
"The care and management of the Audubon Reserves and protected species is critically important to the Department of Conservation and the people of Bermuda so any assistance provided to ensure their preservation is greatly appreciated," the Minister said.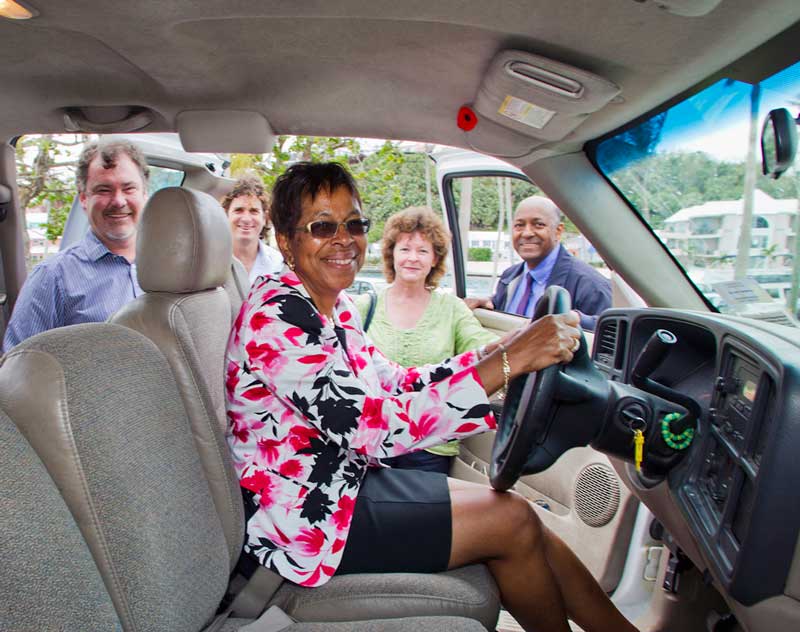 The Minister added, "This donation to the BAS and the Department of Conservation Services is a reflection of the strong partnerships that Atlantis working with BIOS, Conservation Services and the Department of Health helped to create with Laval University department of Ecotoxicology and Public Health Surveillance.
"The Atlantis Labs had a 12 year international ocean human health mission form the Arctic to the Caribbean and Bermuda, through BIOS, hosted the first and last Atlantis research projects."
The Minister noted that Bermuda played a significant role in moving forward the connection between human health and ocean/environmental health and we have an important legacy of action and extremely useful knowledge about Bermuda and its population as a result. Dr. Dewailly sadly passed away last year just after assisting in setting up the transfer of this vehicle.
"I know that Dr. Dewailly, the Director of The Atlantis Mobile Laboratories would be very pleased to see this part of the Atlantis Mobile laboratories repurposed and continuing its life doing something positive. We are very grateful for everything he has done for Bermuda."
Read More About
Category: All, Environment