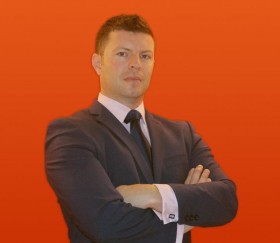 Digicel Bermuda today announced that Chief Financial Officer, Robin Seale [pictured] has been promoted to the position of Chief Executive Officer replacing Alistair Beak who has been promoted to a regional CEO position taking on overall responsibility for Cayman, Turks & Caicos as well as Bermuda.
Robin Seale has over fourteen years' international experience across a range of industries including: manufacturing, hospitality, construction, financial services and accountancy practice. Seale joined Digicel in 2012 as CFO for the Bermuda business from his previous role in a publiclylisted FMCG company in Saudi Arabia.
"It's an honour to take on the role as CEO of Digicel Bermuda. In the three years I have been inBermuda already, I have been fortunate enough to see the company grow substantially – and I am very excited for the future. In my new role, I remain committed to building on the good work the team has delivered to date and focused on delivering the very best value, service and network to our family of customers across Bermuda," said Mr. Seale.
Alistair Beak was appointed Digicel Bermuda CEO in July 2014, having joined in January 2014 as Commercial Director. Beak, who will remain in Bermuda, now oversees the Turks and Caicos Islands and Cayman markets in addition to Bermuda.
He said; "Congratulations to Robin who takes on the role of leading one of the strongest, most professional and assionate teams I have ever worked with. This appointment further demonstrates Digicel's commitment to Bermuda – not just through investment and development in our business and communities, but also in ensuring consistency among our team which ultimately results in an improved customer experience."
Read More About
Category: All, Business, technology