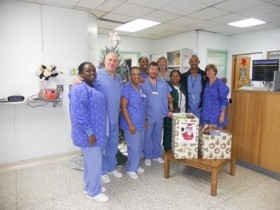 A nurse currently working at King Edward VII Memorial Hospital [KEMH] has launched a social media platform intended to aid nurses in sharing information and stories regarding their work, in Bermuda and around the world.
Janice George, a registered nurse with a Masters Degree in Public Health who currently works in KEMH's recovery room, officially launched the page – called Vitals – on May 12 in recognition of International Nurses Day.
The Vitals page on Facebook says, "Vitals aim to highlight the positive initiatives nurses are involved in, and foster caring relationships amongst nurses. Vitals aim to be the official networking hub for nurses in Bermuda to connect with nurses worldwide."
Ms. George said, "The overall aim is to foster growth and increase unity amongst not only nurses in Bermuda, but worldwide. I have a passion for nursing and an even deeper passion for aiding in any way in the overall increase of positive morale of nurses.
"I believe that nurses make a vital contribution to every country. Sometimes a nurse's job can be thankless. This may be due to the fact that many persons do not understand the complex roles which nurses play. Sometimes after everyone else is gone home the nurse is the only one that is left with the patient or client.
"Therefore this sometimes means that the Nurse has to play the role of Mother, counsellor , teacher and motivator . A nurse can never display that he or she is having a bad day. He or she is caring for someone who is often ill whether mentally or even physically.
"This often makes that person vulnerable and in need of an advocate for their care. Look at Ebola for instance. This deadly virus affected so many persons in west Africa. It would have been nice for us here in Bermuda to hear how some of the nurses there dealt with this.
"Therefore I think that having a global initiative like this will allow us to see some of the positive aspects to nursing."
For more information, visit the Vitals page on Facebook.
Read More About
Category: All, technology