The unusual sight of a man flying a paramotor over the island yesterday [May 7] attracted some interest, and the Department of Civil Aviation [DCA] provided some guidelines for anyone interested in obtaining authorization to operate one of the motorized steerable parachutes.
The gentleman yesterday did not appear to have obtained authorization in advance, as when Bernews first contacted the DCA in the morning to inquire about the paramotor flying over Bermuda, they said they were "actively seeking the identity" of the man flying it.
Later that day, the DCA said the "search is over" and the matter is closed, as they spoke with the gentleman who flew the paramotor and were "satisfied that he operated the unit considering safety and best practices."
Photo, by Kimberly Hughes, of the paramotor over Bermuda yesterday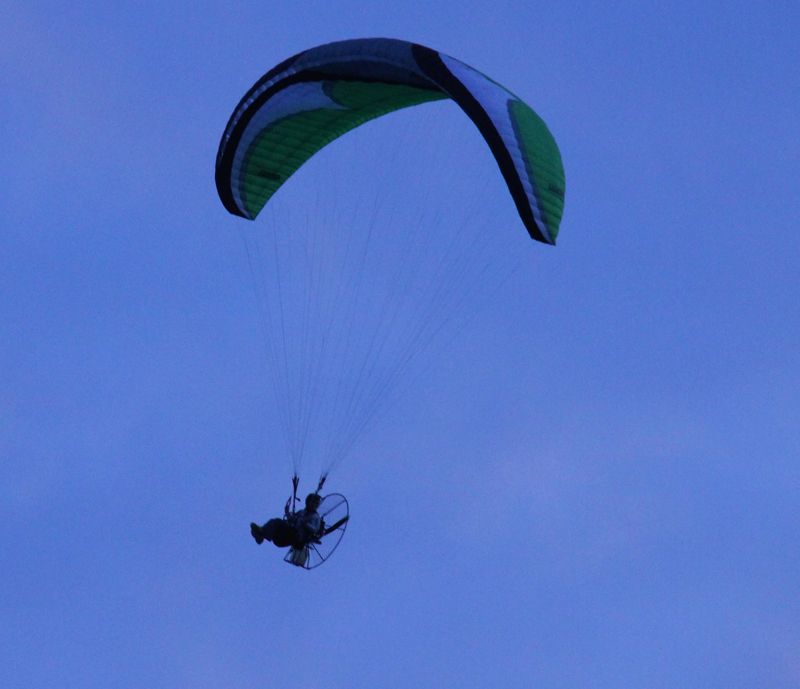 As far as guidelines for operating one, the DCA told Bernews, "We will grant an Operations Authorisation to individuals who make contact with Civil Aviation and make an application to operate a Paramotor.
"There is a set of criteria which would need to be met prior to this authorisation being granted for operations within Bermuda, but for starters, the pilot must receive training from an instructor authorised by either the:
"One can expect that since this is new territory for Bermuda, that they should expect to be met with cautious and active oversight by the BDCA.
"Our priority is to ensure aviation and public safety, and one would need to assure us that they are competent in flight operations, rules of the air and subsequently comply with all criteria set forth by us."
Video of paramotor flights and events in California
According to the U.S. Powered Paragliding Association, paramotors weigh around 45-75lbs, and are capable of traveling at speeds of 20-40 mph, which depends on wing model, size and clip-in weight.
Parasailing, which is where a person is towed behind a boat while attached to a specially designed canopy somewhat resembling a parachute, is available now in Bermuda from KS Watersports at a cost of around $110.
Read More About