The New Life Church of Nazarene on Collector's Hill in Smiths, lead by Rev. Dr. Ernest Peets Jr, held a special service for seven of the island's Taxi Driver Ambassadors on May 3, calling them "a few of Bermuda's unsung heroes."
The service honoured David Fox, Edward Woolridge, Henry Llewelyn Phipps, Hadley Woolridge, Clarkson Cubitt Trott Smith, St. Clair Simmons, and Padam Nisbett [not present], who represent a combined 300 years of service.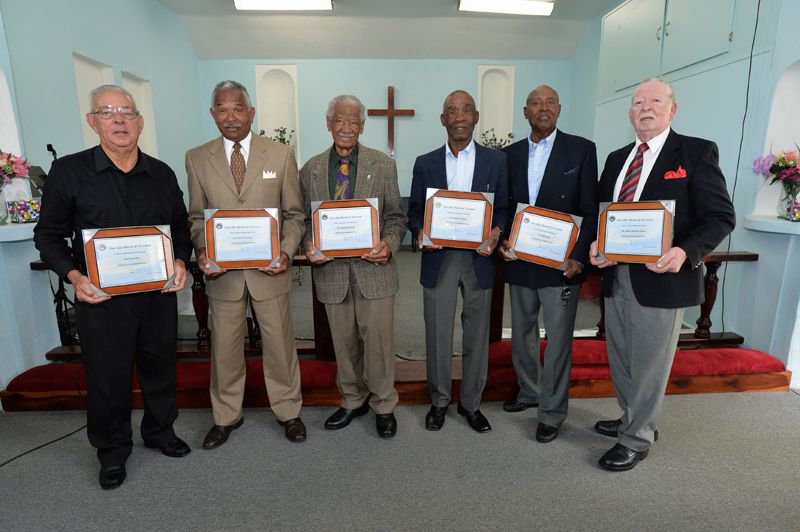 The service's biography of David Fox said, "Mr. Fox began his career as a Taxi Operator in 1965 while working part-time for Mr. Martin and Buffy Bean, where he drove mainly during the summer season.  He did this for a while, but he was eager to own his own taxi, and in 1972, T1780 was born.
"His first taxi was a light blue Ford Cortina. Subsequently, many vehicles bore the T1780 tag – a Nissan Datsun, Toyota, Mitzubishi and his latest, an 8-seater Hyundai, all of which were white.…half the colours of his beloved PHC Zebras!  Mr. Fox has been on a roll in regards to being recognized and honored.
"Just last weekend he was inducted into the PHC Hall of Fame, as he was one of the team's most prolific goal scorers, having earned the name Goal A Game Fox."
David Fox with Rev. Dr. Ernest Peets Jr: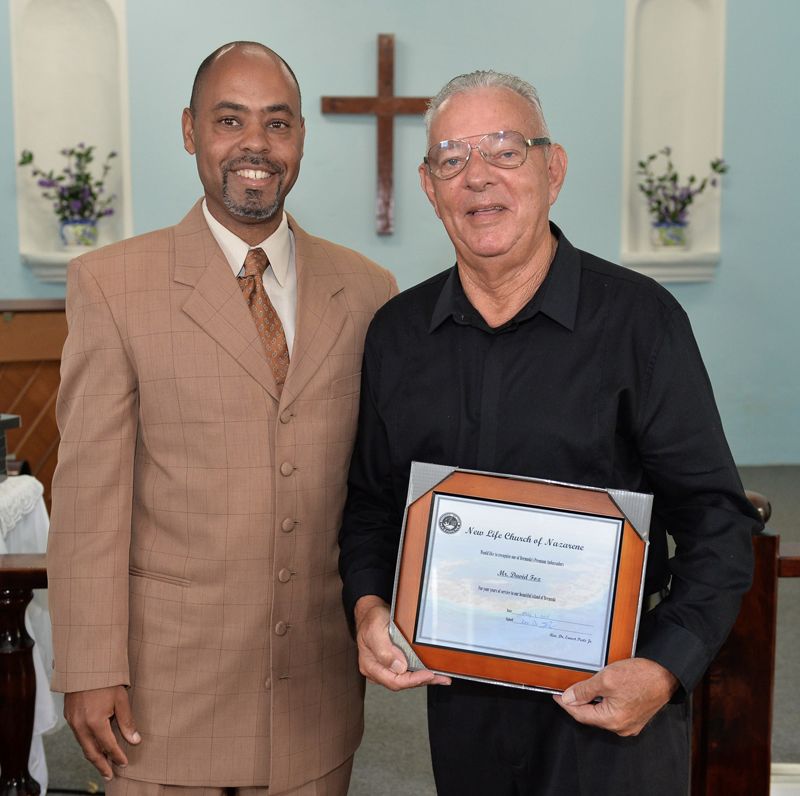 "Mr. Fox has enjoyed his career as a taxi operator and has had the privilege of driving many famous people – Prince Khalid of Saudi Arabia, Ted Koppel, an ABC News Anchor, basketball star Michael Jordon & his wife, actor Chuck Norris, and Lou Macari who played for Manchester United.
"Additionally, he drove a Jaguar advertising crew who had a huge marketing event on Hawkins Island.  He was also responsible for transportation for the entourage of Crown Prince Fahd, who later became King of Saudi Arabia, and worked with George Bush Senior's entourage as well.
"In recent years, it has been Mr. Fox's preference to do island tours. He is well known on the websites, "Cruise Critic" and "Trip Advisor" and often gets many bookings, sometimes 6-9 months in advance."
The service's biography of Edward Woolridge said, "Mr. Edward Woolridge has driven for 51 years.
"Eddie says that he considers his profession as a taxi driver to be a very important role in Bermuda.  He has the pleasure of first working outside in God's creation all day and secondly he enjoys meeting new people every day whether they be residents or visitors."
Edward Woolridge with Rev. Dr. Ernest Peets Jr: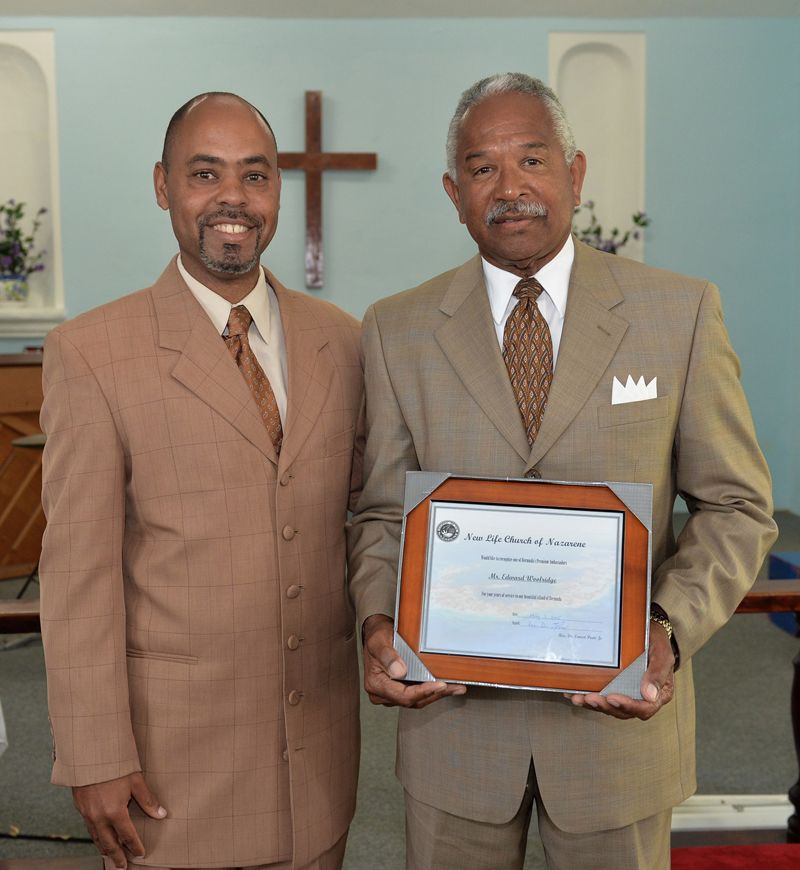 "On a daily basis he never knows who God will put in his path and therefore he can say to God be the Glory for what He has done and what He continues to do for me."
The service's biography of Hadley Woolridge said, "Hadley Woolridge was born June 20, 1930. At the age of 17, he set a goal that he would have his own house in seven years. At 21he took the taxi examination and passed on his birthday, June 20, 1951, and began driving the very next day.
As he continued on the journey to accomplish his goal, he decided that he wanted his own taxi, and applied for a taxi permit. Hadley had his license for only 10 months, when he was privileged to receive one of the last eight permits that the Government granted back in 1952.
"Hadley encountered a few angry brethren due to that, but became the proud owner and operator of T-1692, which he personalized with non-other than pink and green to represent his club, Flatt's Victoria. He would also wear pink and green attire at times, for those special occasions. He worked tirelessly in the taxi, and was able to build his house by the age of 29."
Hadley Woolridge with Rev. Dr. Ernest Peets Jr: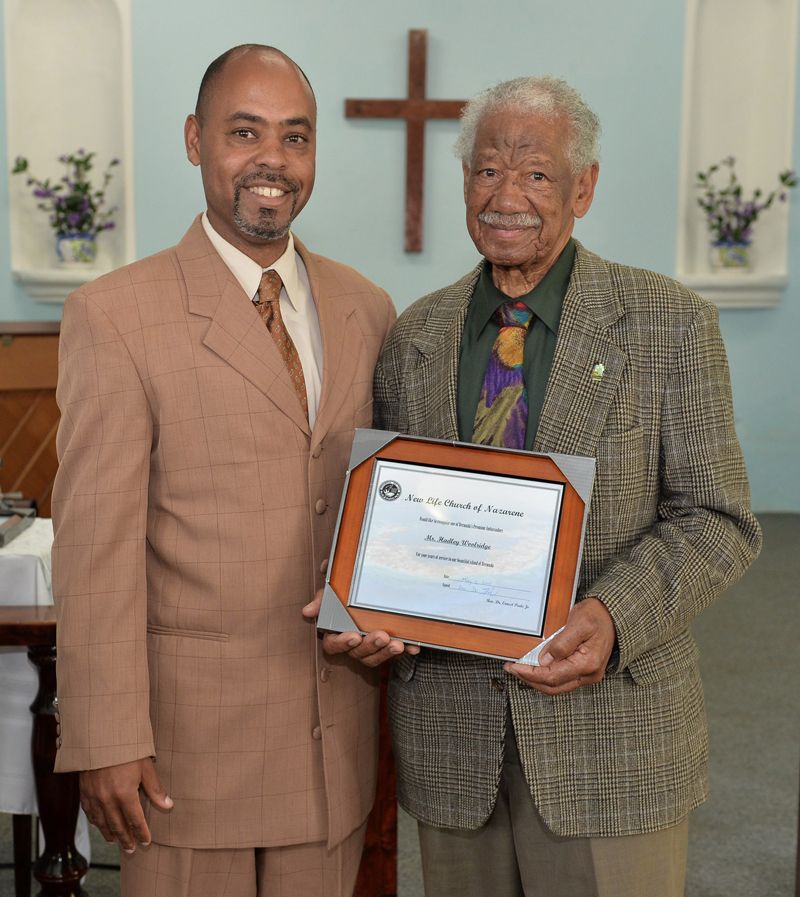 "Hadley enjoyed driving locals and visitors; meeting people of all walks of life, and became a tour guide approximately twenty years later. Quite often, part of the tour included being entertained at Hadley's house. He was also often seen touring with camera in hand, ready to capture that memorable moment.
"Hadley became a well-known ambassador of the island, and has many fond memories of the many contacts and friendships that he made throughout his 58 years of service as a taxi owner and tour operator. He keeps in contact and visits many of these lifelong friends, especially the first family that he ever drove.
"Additionally, Hadley found the time to also perform charitable duties. Every Wednesday, he drove the bus for Summerhaven. For his dedication to his island -home, and true sense of hospitality to all, Hadley received many honorable mentions including the Queen's Honor. Hadley retired exactly 58 years to the date, on June 21, 2009."
The service's biography of Henry Llewelyn Phipps said, "LLewlyn or Lou as he has been affectionately known has been serving our island in many capacities, wearing many hats!  From being a mechanic, as a caterer and being a front line ambassador as a taxi operator for over 50 years.
"At first it was part time but later became an owner operator. Always impeccably dressed with his signature…a hat. He takes pride in cleaning his car daily nothing but the best for his guests. He is honest, trustworthy and a great time keeper."
Henry Llewelyn Phipps with Rev. Dr. Ernest Peets Jr: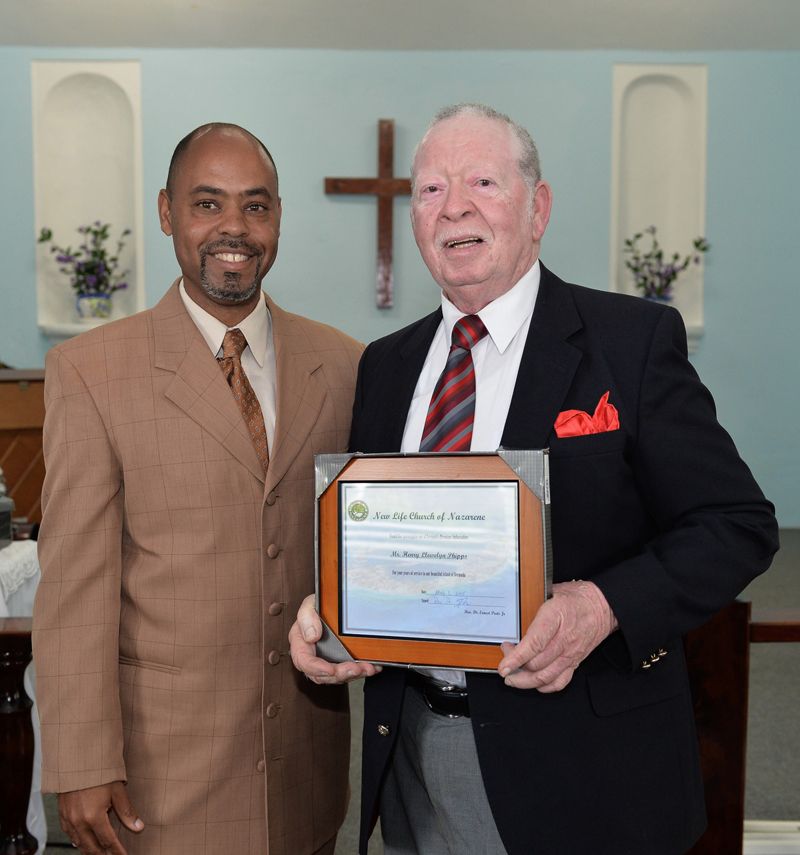 "He has countless stories to tell about guests that come back and forth to our beautiful island of Bermuda.  One of the most memorable is a guest worker whom he used to drive regularly. The time came for him to leave the island and they lost contact.
"The visitor later returned to the island and looked him up but Lou was not on the island. The visitor return some eight years later and arranged a surprise meeting with Lou, who was struggling with the meeting time and did not want to go because he did not know the reason why he was being summoned.
"People can sense if you are genuine and Lou is a gem. He is certainly one of a kind."
The service's biography of Clarkson Cubitt Trott Smith said, "A true ambassador for the island of Bermuda.
"Cubitt often says that he is an original Bermudian. Cubitt Smith also known as "Tussy" began driving in the late 60's.
"Anyone who ever got a ride in his cab is unlikely to have forgotten him. He takes pride in his appearance and always wears a stiff newly starched shirt. He often comments on the fact that the dress code today is not what it was."
Clarkson Cubitt Trott Smith with Rev. Dr. Ernest Peets Jr: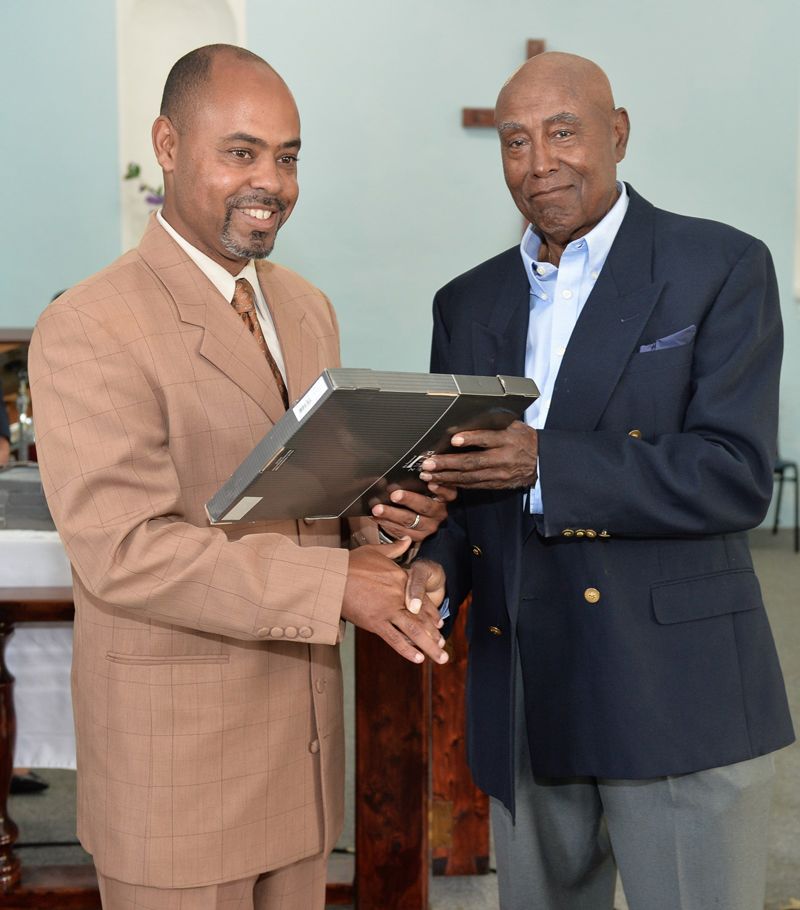 "His first taxi was a Hillman. He later purchased a Singer convertible [an upscale vehicle in its day] which he drove during the summer months only. The convertible had a surrey top with all the frills.
"Cubitt has received testimonials from satisfied guests since 1967. As a veteran of our roads, Cubitt has seen so many changes in our traffic and he is greatly concerned about the growing lack of road courtesy and safety on our roads today.
"Clarkson Cubitt Trott Smith, a proud son of the soil, has spent much of his professional life in service to his beloved Bermuda, as an Ambassador, Diplomat, representative, tour guide, and driver  to ensure that Bermuda visitors received the hospitality that reflected the values of Bermudian life."
The service's biography of St. Clair Simmons said, "St. Clair or 'Sinnie' was been a wonderful Taxi ambassador for Bermuda for some 42 years. An excellent timekeeper who is neat and tidy. His car is always sparkling clean as he takes pride in driving both visitors and locals.
"He enjoys showing off his beautiful island home. Mr. Simmons has spent all his life in the service industry working for places like Bermudiana Hotel, Burnaby's Cycles [a rental cycle shop] and HWP.  He began driving taxi on a part time basis but eventually became an owner operator."
St. Clair Simmons with Rev. Dr. Ernest Peets Jr:
"Mr. Simmons is a lover of golf.  He has driven countless people some regular visitors who he befriended have taken him out to play golf with them.  We here at New Life can attest to Mr. Sinnie Simmons generosity. A few years ago the church were celebrating our 50th anniversary and we had visiting guests from America.
"He stepped in to assist us driving them around the island. He is very reliable and we were truly grateful for his kindness as he constantly assisted with driving them around the island for their entire stay."
- Photos courtesy Anthony Wade
Read More About