Mr. Rodrigo Vasconcelos de Oliveira, regional secretary of the presidency for external relations, and Dr Paulo C Teves, regional director for the communities are visiting Bermuda to meet local government officials, show support for the local Azorean community and strengthen ties on the Island. Today [June 12], they presented books donated by the Azorean Government to the Bermuda National Library.
Pictured from left to right: Dr Paulo C Teves, Regional Director for the Communities; Andrea Moniz-DeSouza, Honorary Counsel for Portugal in Bermuda; Mr. Rodrigo Oliveira, Regional Secretary of the Presidency for External Relations; Community, Culture and Sports Junior Minister Nandi Outerbridge; C. Joanne Brangman, Director, Bermuda National Library and Heather Whalen, Director, Community & Cultural Affairs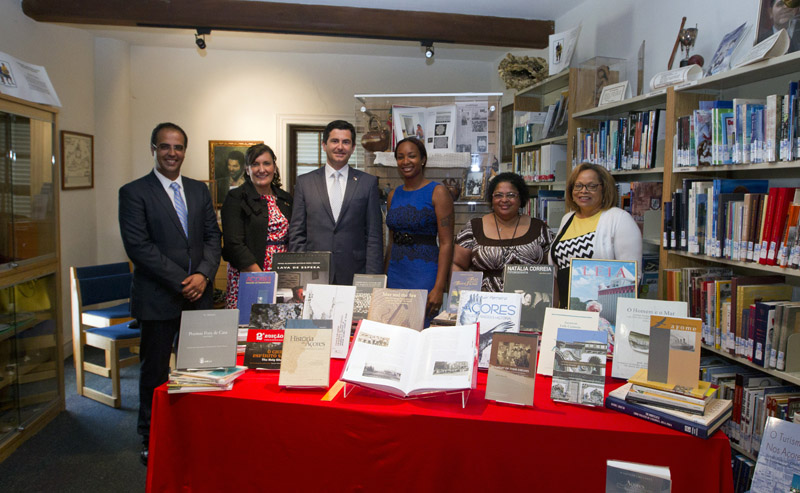 The books donated will be added to the Library's collection and will be available for loan or reference once they are catalogued and processed by library staff.
The books in Portuguese will be added to the Library's Foreign Language collection, while any in English on the history and culture of the Azores and Azorean, people will be added to the Cultural Studies collection.
Library Director, Ms C. Joanne Brangman stated that "It is our hope that this influx of Portuguese books will encourage any residents of Portuguese descent who are not already members to become members of the Library and use the many free services the Library has to offer."
Read More About