A number of growth opportunities are on the horizon for Bermuda's evolving captive insurance industry, according to PwC Bermuda's captive and tax specialists, speaking at the Bermuda Captive Conference June 8 – 10. Latin America and Canada are expanding markets and the industry is seeing an increasing focus on using captives for employee benefits and cyber risk.
The conference, of which PwC Bermuda is a sponsor, heard that while the uses and users of captive insurance companies have changed in the last few years, the changing regulatory environment – far from driving a contraction in the captive market – has highlighted the importance of captives as both a tool for risk management and efficient capital use.
This year's conference again drew a significant number of attendees from Latin America and sessions were presented in Spanish with translation, including Captives & the Bermuda Domicile for Latam Companies, in which PwC Bermuda assurance manager Giulianna Molero-Solari was a panelist.
David Gibbons, PwC Bermuda Captive insurance leader said: "The fact that this conference had such high numbers of actively engaged attendees and sponsors shows the focus that many companies are putting in the usefulness of a captive.
"We all saw extensive interest from new market participants from Latin America and Canada where concern over risk management and mitigation benefits offered by a Bermuda captive fits well into their global structure and philosophy. We also saw existing captives looking for new ways to utilise the capital and connections in the reinsurance market they had built over the years to write new lines of business, specifically employee benefits and cyber risk."
PwC Bermuda Captive Insurance leader David Gibbons and members of the team Adrian Lewis, Giulianna Molero-Solari and Adrian Wong.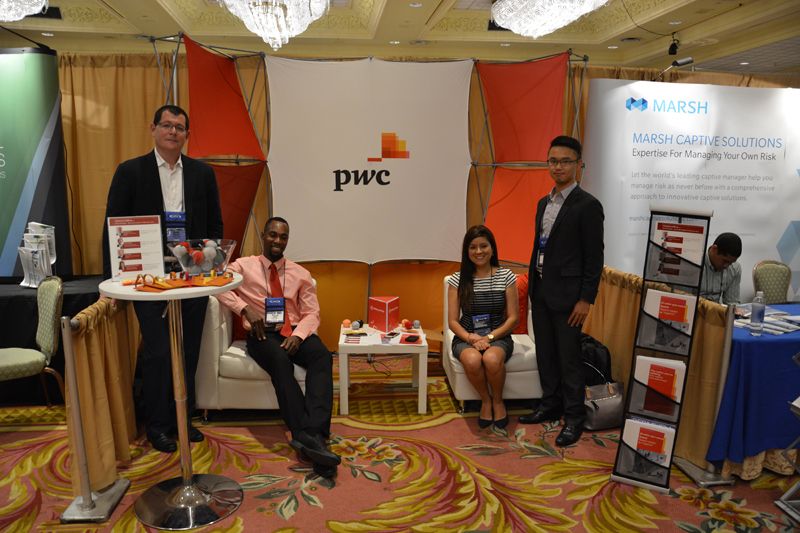 Speaking on Latin American interest, Mr Gibbons said: "Latin America is an expanding market that is increasingly driving more business to the Island. As Latin American countries experience significant economic growth, many companies are expanding beyond their home borders, creating what are known as 'multi-Latinas'. These companies are exploring ways to manage their expanding exposure to risk. One of the most effective ways they are managing their risk is through the use of captive insurers."
Richard Irvine, Tax leader, PwC Bermuda, who took part in a session on the use of related party assets in a captive insurance company, commented: "The Conference always brings together a good group of captive owners and service providers and this year saw record attendance."
Scott Slater, Tax director, PwC Bermuda, a panelist in the US Tax Update session, said: "It has been a busy couple of years in the US court system with a number of favourable decisions affecting captive insurance companies including the Rent-a-Center and Securitas cases, and the Validus decision in relation to Cascading FET [Federal Excise Tax]."
Mr Irvine added: "Captives in Bermuda will need to continue to monitor the ever-changing global tax landscape; particularly with the proposed law changes currently being considered in the US Federal and State tax systems and the OECD's initiative around Base Erosion and Profit Shifting [BEPS]."
Captives domiciled in Bermuda for more than 25 years were this year honoured in a hall of fame.
Stewart Ritchie, director of assurance, PwC Bermuda and chair of the BCC's marketing subcommittee said: "Being the largest captive insurance domicile in the world led to Bermuda becoming a top re/insurance domicile, which is able to attract global re/insurers. There are more than 800 active captives in Bermuda and there's a huge service organisation that goes along with this, supporting many jobs on the island."
Read More About