Bermuda's archery team ended their stint at the Island Games in fine form. For Bernard Wade III and Robert O'Connor, this was their first Island Games. Both have taken up archery in the last two years or so and both beat archers from other islands with much more experience.
Robert O'Connor finished thirty-first out of thirty-nine in the 1440 round on Monday [June 29], beating seasoned competitors from Guernsey, Jersey and Menorca. Bernard Wade stunned many by finishing seventh, well ahead of many of the favourites from the other islands.
On Tuesday [June 30] both shot a 720 round, which was the ranking round for the head-to-head knock-out round to be held on Wednesday [July 1], and again put in a fine performance. Robert O'Connor improved to thirtieth place whilst Bernard Wade improved to a stunning fourth, only 5 points away from third place.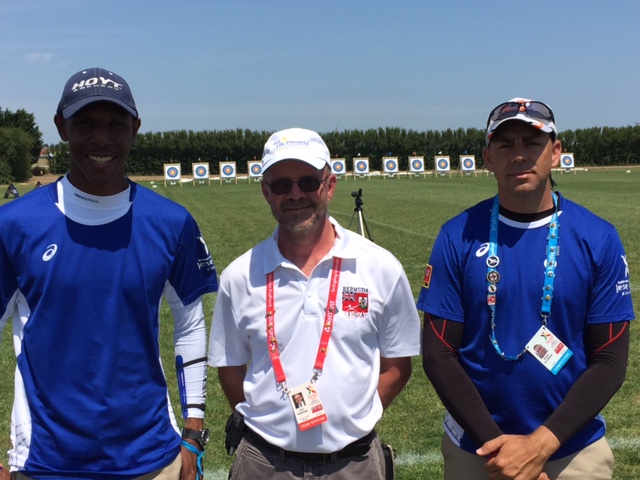 On Wednesday Bermuda's archers faced the head-to-head knock-out competition at 70 metres [230 feet]. Robert O'Connor started the day by handily beating seasoned veteran Bjarne Jacobsen of Jersey in three straight ends. Bernard Wade, like all of the top ranked archers that day, had a bye in the first round as a result of his performance the previous day. In the second round Robert O'Connor faced another Jerseyman, this time in the form of third ranked Mark Renouf. Robert put up a good fight, but eventually could not succeed against the eventual gold medal winner.
Bernard Wade started his competition about this time, facing off against John Cowin from the Isle of Man. Bernard took a little time to warm up, but dispatched of the Manx archer after 4 ends. After dispatching the challenger from the Isle of Man, Bernard came up against veteran Dan Power from Guernsey. In the scrappiest match of day, Bernard forced Power to a sudden death single-arrow shoot off but he missed the centre and ended his day just before the quarter finals.
Bermuda archery team coach/manager, Paul Harshaw, said "I am proud of how the team has done. This is the first time either Bernard or Robert have competed in either a 1440 round or a 720 round and they have both done extremely well.
"Bernard in particular turned a lot of heads and the other archers from other islands have commented on how well each of them have done. For Bernard to finish fourth on his first competition of this sort is nothing short of outstanding. Bermuda should be proud of both and look forward to even better results in Gotland in two years' time."

Read More About