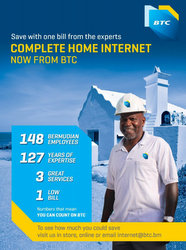 Bermuda Telephone Company – which was recently acquired by Digicel — announced the launch of Complete Home Internet, including end-to-end connectivity with internet service provision [ISP] to complement existing access and phone services.
"With 127 years of expertise and 148 Bermudian employees, BTC is trusted by thousands of customers in Bermuda for phone and data access provision," the company said.
"With the addition of internet service, we can now offer new and existing customers a full one-stop-shop for connectivity to homes and businesses across the island.
"Customers taking multiple services from BTC will benefit from discounts of up to $468 per year compared to standalone Internet prices. Further, they will gain the convenience of a single provider and single bill.
"In fact, BTC is the only service provider in Bermuda that sees customers able to talk direct with the ultimate supplier for phone, internet and access. This will be a breath of fresh air to customers that historically might have faced the inconvenience of multiple calls to different companies in the event of technical or service questions.
"The new internet services will align to the existing data access provided by BTC with packages ranging from 2Mbps to 25Mbps. Bundled pricing for both services start as low as $55 per month and phone services, including their unlimited local calls package, can be added to all."
CEO of BTC, Robin Seale stated "We are delighted to extend the choice everyone in Bermuda has for internet providers today with the launch of Complete Home Internet from BTC.
"This is a company with a history of great service based on the vast expertise of its dedicated employees. That's why thousands of customers count on BTC already and why we are confident new services like this will be welcomed."
"Existing BTC customers can choose to upgrade their access and/or phone plan to Complete Home Internet and new customers can gain the savings immediately. More information on Complete Home Internet including a full list of prices can be found online at www.btc.bm or by emailing internet@btc.bm."
Read More About
Category: All, Business, News, technology