Clarien Bank announced today the recipients of the 4th Clarien Bank Inspiration Scholarship awards, with Nalani Dowling, Kyle Simmons and Kioshi Burgess all receiving the honour.
The aim of the scholarship is to encourage academic excellence in the arts for the youth of Bermuda. In order to facilitate this, Clarien Bank is proud to award artistically gifted students with financial assistance to pursue academic goals in performing and visual arts.
Eligible applicants were visual and performing arts students ages 15 – 21 enrolled in a senior school or university.
Left to right: Nalani Dowling, Kyle Simmons, Irma Burrows [Aunt of Kioshi Burgess] and Clarien Chief Marketing Officer Michael DeCouto.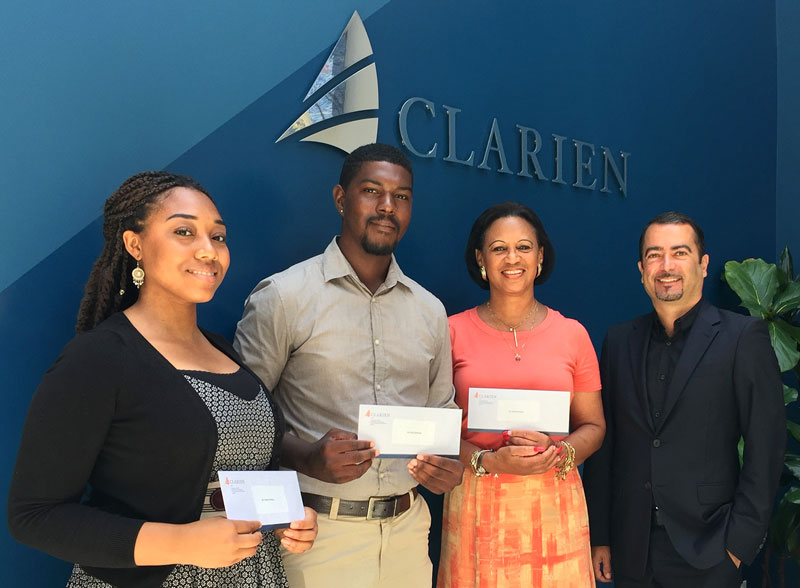 "It is an honour to be able to bring recognition to the artistic youth of Bermuda," said Clarien Bank Chief Marketing Officer, Michael DeCouto. "We want to encourage and ensure further education of the arts in Bermuda.
"The entire Clarien Bank team is pleased to be able to ensure that our legacy of 'Giving Back' is upheld." He continued, "This year's award recipients were exceptionally talented and were enthusiastic about furthering their education. We wish them the greatest academic success and encourage them to strive not only to be successful but to continue to be creative."
The 2015 Inspiration Scholarship honourees are:
Nalani Dowling, Spelman College Atlanta, Georgia [USA]
Studio Art
From a very young age, Nalani has had a fascination with the arts and the effect that it has on individuals. Through her dedication and hard work, she has improved her talent creating colourful and captivating masterpieces.
Kyle Simmons, OCAD University Toronto, Ontario [Canada]
Videography, Photography
Kyle has a special flair for art. His combination of raw talent and thirst for knowledge opens the door for limitless opportunities and sets the tone for future success. Ultimately, this will help him to achieve his dream of production writing and directing.
Kioshi Burgess, Musicians Institute College Of Contemporary Music Hollywood, California [USA]
Vocal Performance
Kioshi is extremely passionate about the arts. He is multitalented and is greatly driven by learning all there is to know about music and performing arts. He is an award-winning choreographer and world-class performer, destined to reach in his future career goals.
Read More About