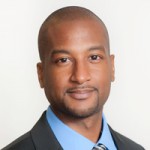 Bermudian Trenton Fubler has been promoted to Associate Director, Operations at Sun Life Financial International.
A 12-year veteran of the company, Mr Fubler joined Sun Life Financial International in November 2003 as a Customer Service Representative, and over the years has held a broad range of roles and responsibilities across the organization including administration, operations, new business and actuarial.
In his new role, Mr Fubler  will lead the Operational and Administrative teams for the International Life business handling complex inquiries from distribution partners, as well as focusing on continuous improvement initiatives.
Commenting on the appointment, Caroline Kirst, AVP, Head of International Operations, Sun Life Financial International, stated: "Trenton has been a tremendous asset and an integral part of Sun Life Financial International operations in Bermuda.
"He is knowledgeable about the business, and coupled with his energy, collaborative style, and flexibility, I am confident he will inspire and lead his new team to collective success."
Andrew A. Darfoor, SVP and CEO, Sun Life Financial International, commented: "We remain focused on fostering, developing and nurturing Bermudian talent in the organization. Developing local talent is an integral part of our future growth and human resource strategy on the island.
"Accordingly, I am delighted to have Trenton promoted to the local Bermuda management team and see him progress in the organization. Additionally, we look forward to introducing into the organization our first Bermudian Rotational Leadership Development Program [RLPD] candidate starting in August 2015."
Mr Fubler holds a Bachelor of Science degree in Marketing from Alabama A&M University in Huntsville, Alabama, and an Associate Degree in Business Administration from New Bold College in Bracknell, England.
Read More About