Six Saltus staff – Heather Trimingham, Rosie Doughty, Kalpana Gangwani, Jane Hizer, Trudy Bucher and Jen Pettit — attended the International Society for Technology in Education [ISTE] conference held in Philadelphia in late June.
ISTE hosts an annual conference reported to be the most comprehensive educational technology conference in the world. The conference offers a wide range of professional learning opportunities for all types of educators and leaders in education, and includes an array of workshops, lectures, forums, vendor exhibits, technology playgrounds and other hands-on learning environments.
The goal is to allow teachers and administrators to build content knowledge while learning new strategies and to gain exposure to the most timely and relevant topics and trends in educational technology.
From left: Jen Pettit, Rosie Doughty, Jane Hizer, Kalpana Gangwani, Heather Trimingham and Trudy Bucher at the ISTE 2015 conference.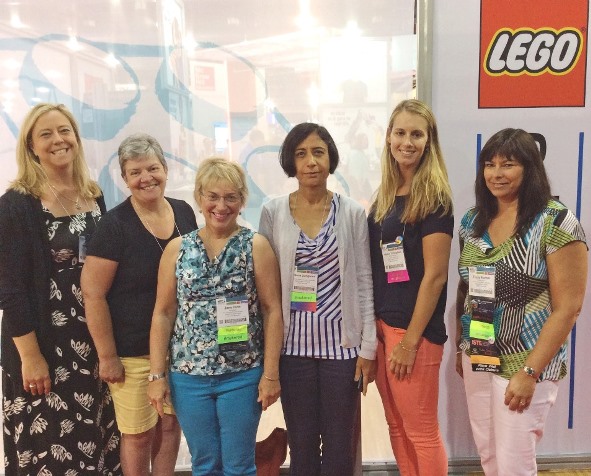 Ms. Trimingham, a teacher in the Lower Primary Department at Saltus, said it was helpful to collaborate informally with 'peer' educators from the United States, Canada and as far away as Australia to learn new strategies and technologies.
She said, "I found it really useful to ask questions to find out how to implement new ideas in my classroom right away based on another's experience. Also, it was so exciting to meet people behind the internet sites and technology that we currently use, e.g. BrainPOP and LEGO, and to learn how to use that technology to promote higher level thinking."
Ms. Gangwani, who teaches in the Secondary Department, was particularly impressed with the Augmented Reality technology in which "information about the surrounding real world of the user becomes interactive and digitally manipulable."
Staff who attended this conference are excited about what they learned and looking forward to sharing these ideas with their colleagues in September and incorporating them into the Saltus learning experience.
Ms. Trimingham echoed the sentiments of their sentiments: "Overall, the conference was very insightful and I know I certainly walked away with a more diverse, practical 'tool kit' for enhancing learning through technology in my classroom."

Read More About
Category: All