[Updated with video] Data prepared by the Department of Statistics "highlights a rise in economic activity, as measured by the GDP, both in nominal and real terms during the first quarter of 2015," Minister of Finance Bob Richards said today.
Minister Richards said, "I am pleased to release the first of an ongoing series of quarterly reports on Gross Domestic Product [GDP], which measures overall economic activity.
"As Minister of Finance, I have been concerned that Bermudians have been forced to interpret, from time to time, economic data and the results of some surveys and opinion polls masquerading as economic data.
"One of my main concerns is that the public, the press and the politically opinionated, reflect on information that is sometimes so outdated that its value in assisting us to understand our present day circumstances and our future prospects is very limited indeed.
"For example, we can have data that can be almost a year old that are framed in the context as though they were today's status quo. The Bermudian public may draw the wrong conclusions under such circumstances. I am happy to report more current data that has been prepared by the Department of Statistics.
"It highlights a rise in economic activity, as measured by the GDP, both in nominal and real terms during the first quarter of 2015.
Chart extracted from the report: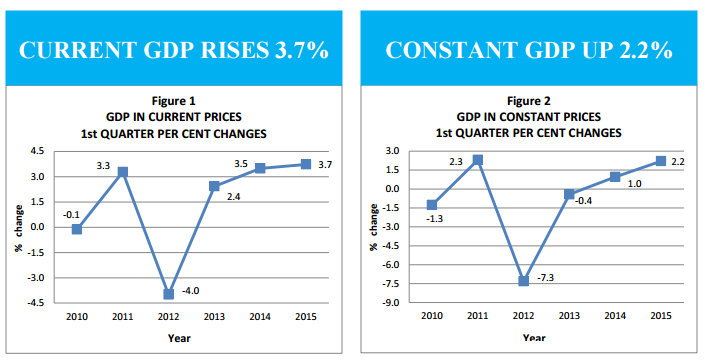 "Compared to the first quarter 2014 GDP grew by 3.7 per cent in nominal terms and 2.2%, adjusted for inflation. This is good news and clearly indicative of the fact that the economy is growing, and the latest evidence of an improved economic outlook. Our efforts to stimulate investor interest in Bermuda are continuing to bear fruit, providing increased prospects for the future.
"But we are not standing still. The government intends to continue to pursue policies and projects that stimulate the economy. We believe this is the correct strategy to ensure substantial improvements in tangible opportunities for Bermudian entrepreneurs, companies and employees.
"There is a growing confidence in Bermuda's economy and its future, a confidence that is shining through the oppressive gloom of negative political rhetoric.
"We will need that enthusiasm and optimism as we continue our road back toward a balanced budget through fiscal prudence. This new data, read together with other economic figures recently released, is good reason for renewed optimism after years of challenges.
"Just days ago, you heard from the Quarterly Bulletin of Statistics that central government revenue is up. And in the face of much pressure, efforts continue throughout government to control public spending.
"For the same period, across the island, employment income grew and total expenditure by air visitors was nearly 20 per cent higher [19.3%] year-over-year. The number of new business registrations is also up for the quarter.
"In hotels, employment numbers rose and gross receipts, money paid to hoteliers, was also marginally up. And last month, the Government released statistics which showed that the value of retail sales grew for nine consecutive months through the month of May. And to the end of April, the volume of retail sales grew for five consecutive months.
"These too, are all indications of optimism. But we should caution that there still is a long road ahead. The Government remains focused on creating the investment environment that will bring long term job opportunities for all Bermudians, across the employment spectrum. Let us not forget that before there is a new job you must have an employer, and before there is an employer there must be investment.
"That's why we are focused on increasing investment in our island. And we remain joined to the battle of gaining control of runaway spending without harsh and draconian austerity measures that would bring more hardship to the community.
"Boosting public revenues and controlling public spending will lead us to a more balanced approach of living within our means. And ultimately that will provide the environment needed to begin whittling away at the country's debt."
The full Quarterly GDP Report follows below [PDF here]:
Read More About