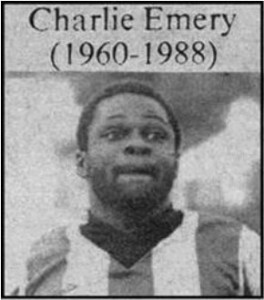 The North Village Community Club announced the introduction of the North Village Memorial Preseason Football Tournament.
"This first annual tournament will honour one of the Club's fallen heroes Charles Emery. Often known as Charlie, he represented North Village until his untimely death in 1988," a spokesperson said.
"Charlie wore the #9 jersey, which is the only retired jersey number in the North Village Premier team. Charlie represented North Village in crucial matches alongside the Bean and Dill brothers with his devastating speed and attacking nature.
"During his time Charlie was a part of Bermuda's Youth National Squad that flew to Honduras for the CONCACAF championship and was referred to as the "best youth team" during that time.
"In acknowledgement of his honour, North Village Community Club will remember Charlie during the preseason tournament which will feature the following teams; Hamilton Parish Hot Peppers, Devonshire Colts, Robin Hood Football Club and the North Village Rams.
"The matches will be played over two days in a friendly but competitive spirit. The first set will be held on Thursday, August 27th at the National Sports Centre starting at 7:30PM and the consolation and championship matches will be held on Sunday, August 30th at the North Village Community Club field [Bernard Park], kick off times being 1pm and 3pm respectively.
"North Village Community Club invite all former players, who may have played alongside Charlie or fans who watched him during the glory days, to come out, reminisce and enjoy the beautiful game in spirit of the game, as well as anyone who would like to watch some competitive football in advance of the upcoming 2015/16 season
"There is no entry fee for either set of matches, however donations will be graciously accepted to assist with the funding of the Charles Emery Scholarship Fund for tertiary education."
Round #1
Thursday August 27, 2015 @ National Sports Centre North Field
Match #1 – North Village Community Club VS Hamilton Parish – Field 1
Match #2 – Devonshire Colts VS Robin Hood- Field 2
Both matches will kick off at 7:30 PM
Round #2
Sunday August 30, 2015 @ Bernard's Park
Consolation Final – Loser Match #1 VS Loser Match #2 @ 1:00pm
Championship Match – Winner Match # 1 VS Winner Match # 2 @ 3:00pm
Read More About