The XL Foundation Summer Youth League All Star game took place at St. John's Field, with the East All-Stars walking away as the All Star Champions.
Batting first the West All-Stars were restricted to 79/5 in their allotted 20 overs, Jagai Bailey was their top scorer with 23 not out, while Jenico Sealy added 16 runs. Sancho Jackson led the East All-Stars in the bowling department with figures of 4-0-12-2.
In reply the East All-Stars scored 81/5 in 18 overs, Iyaun Smith was the top scorer with 16, while Jabari Darrell added 13, Malachi Trott and Logan Jones both scored 10 runs, with Jones not out. Jenico Sealy led the West Bowling attack with figures of 3-0-11-2.
Jaiden Manders had the play of the game for the West with a return catch, while Sancho Jackson took a return catch for the play of the game for the East.
Jagai Bailey was named the West MVP, while Iyaun Smith was the East MVP.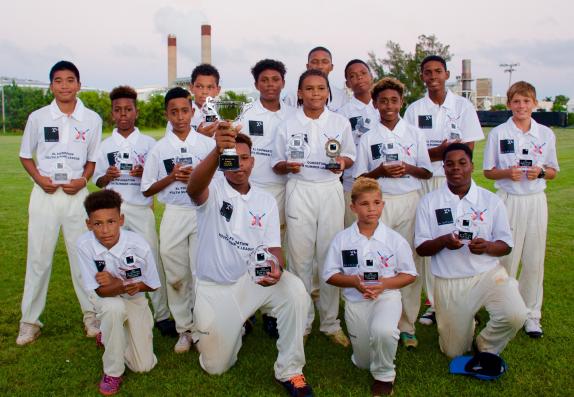 West All-Star Inning
..02 Tai Cariah b Dean Simons
..05 Jerez Eve c & b Sancho Jackson
..00 Jaiden Manders b Malachi Trott
..05 Dalin Richardson b Jabari Darrell
..23 Jagai Bailey Not Out
..16 Jenico Sealy c Kevin Sunga b Sancho Jackson
..04 Tyrique Smith Not Out
..24 Extras [17w-2nb-4b-1lb]
..79 Total for 5 Wickets after 20 overs
Fall of Wickets: 1-13 [Cariah], 2-15 [Manders], 3-22 [Eve], 4-38 [Richardson], 5-75 [Sealy]
East All-Star Bowlers
3.0-0-07-0 Nyrobi Mills
3.0-0-09-1 Dean Simons
3.0-0-11-1 Malachi Trott
4.0-0-12-2 Sancho Jackson
3.0-0-10-1 Jabari Darrell
2.0-0-13-0 Tybrae' Robinson
East All-Star Inning
..13 Jabari Darrell b Dalin Richardson
..01 Jarryd Richardson b Jenico Sealy
..16 Iyaun Smith c Jaiden Manders b Tyrique Smith
..10 Malachi Trott Run Out
..10 Logan Jones Not Out
..03 Jordan Burgess b Jenico Sealy
..02 Kevin Sunga Not Out
..31 Extras [21w-3nb-7lb]
..81 Total for 5 Wickets after 18 overs
Fall of Wickets: 1-17 [Darrell], 2-20 [Richardson], 3-43 [Trott], 4-52 [Smith], 5-65 [Burgess]
West All-Star Bowlers
4.0-0-13-1 Dalin Richardson
3.0-0-11-2 Jenico Sealy
4.0-0-13-0 Jaiden Manders
3.0-0-12-1 Tyrique Smith
1.0-0-05-0 Kameren Mason
1.0-0-04-0 Jerez Eve
1.0-0-03-0 Jamar Stovel
1.0-0-05-0 Jazir Warner

Read More About