A memorandum of understanding [MoU] signed at the weekend by the Bermuda Monetary Authority and US regulatory body the National Association of insurance Commissioners is expected to strengthen both markets, according to leaders of both organisations.
The NAIC President Monica Linden said, "Given the importance of Bermuda's reinsurance community to US companies, we are very excited to sign this cooperative agreement with Bermuda. The framework for collaboration allows for the exchange of information that will strengthen both of our insurance markets."
Jeremy Cox, BMA CEO, and NAIC President Monica Linden sign the MoU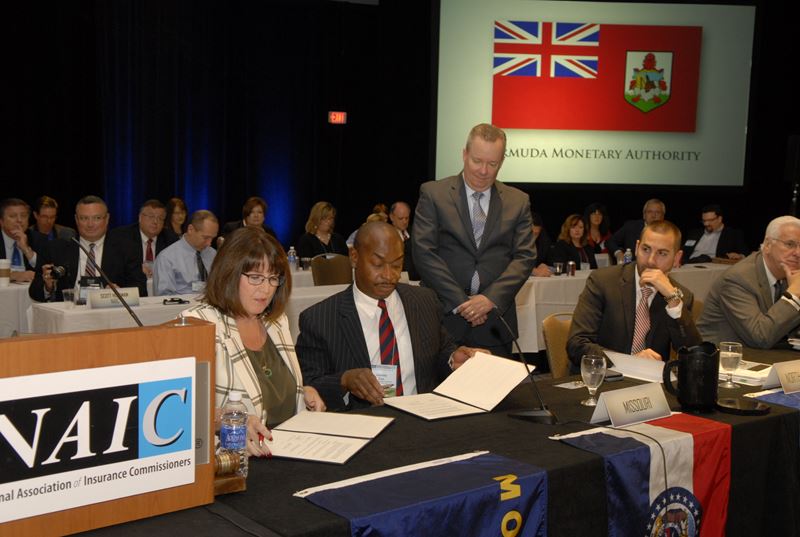 BMA CEO Jeremy Cox noted that this was a big win, reflecting the importance of the Bermuda market. "It's a tremendous vote of confidence in the value of Bermuda. The US continues to be our largest trading partner, and our long-standing collaborative relationship is vital to Bermuda's success as a [re]insurance centre.
"Our relationship with the NAIC goes back 20 years, and it's been a productive and beneficial collaboration. Many NAIC initiatives have shaped how insurance risk is supervised worldwide – and Bermuda has been at the table working with our NAIC colleagues."
The NAIC is the US standard-setting and regulatory support organisation created and governed by the country's chief insurance regulators from the 50 US states, the District of Columbia and five US territories. The MoU was signed at the NAIC's quarterly meeting in Chicago this week.
"This is a testament to a long-standing relationship, and certainly recognises the trust we both have for our respective jurisdictions," Mr. Cox said. "I think the work that was done just over a year ago on the qualified jurisdiction approach was very useful."
Jeremy Cox, Bermuda Monetary Authority CEO, speaks at the opening of the NAIC summer meeting in Chicago, watched by NAIC President Monica Linden and other insurance commissioners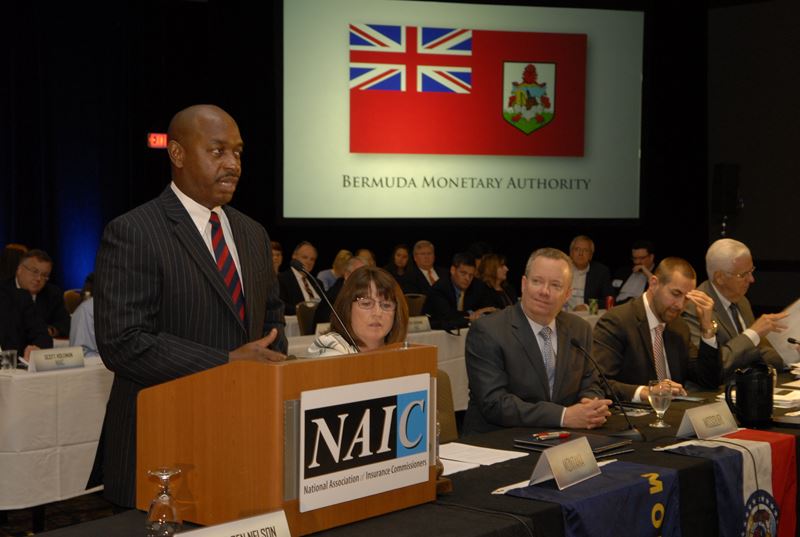 Bermuda was granted qualified jurisdiction status by the NAIC, effective January 1, 2015. It's effect is to reduce the collateral requirements of Bermuda reinsurers and facilitate efficiencies in the cross-border operations for Bermuda reinsurers with the US insurance market. Other jurisdictions approved outside the US are Germany, Switzerland and the UK.
Leila Madeiros, ABIR Senior Vice President, Deputy Director and Corporate Secretary said: "ABIR applauds the BMA in reaching yet another significant milestone in its continued commitment to international cooperation and supervisory collaboration that further enhances policyholder protection and strengthens the global insurance and reinsurance marketplace."
The MoU is designed to help insurance supervisors in the US and Bermuda coordinate on regulatory issues with the goal of efficient, fair, safe and stable insurance markets, according to the NAIC press release.
"While this is a significant achievement for Bermuda, it's important to note that it is part of a bigger picture. The BMA has a network of MoUs with more than two dozen regulatory organisations around the world," said Mr. Cox. "These sorts of connections are vital to Bermuda's success."
Read More About