The Bermuda Economic Development Corporation [BEDC] will be hosting their final Vendor Act 2015 information session this Thursday, September 24th from 6pm to 8pm at Sandys Middle School
The BEDC said, "Tuesday September 1st 2015 was a significant day for the Bermuda Economic Development Corporation when the Pedlars Act 1894 was repealed, the new Vending Act 2015 came into effect, and the Corporation took over management of the Island's pedlars and vendors from the Magistrate's Court.
"To assist existing and new pedlars and vendors with this transition, the Corporation organised a series of free information sessions for the public to attend and find out more information about the new legislation and the requirements for their vending business.
"The first session was held in Hamilton on August 27; the second in St. George's on September 10. The final Vendor Act 2015 information session will take place this Thursday, September 24th from 6pm to 8pm at Sandys Middle School in Somerset. There is no cost to attend the sessions and light refreshments will be served.
"Topics to be covered during the information sessions will be new legislative requirements; the application process; annual and temporary vendor licenses; designated vendor markets; BEDC business register; Government land use requirements; and BEDC support and services.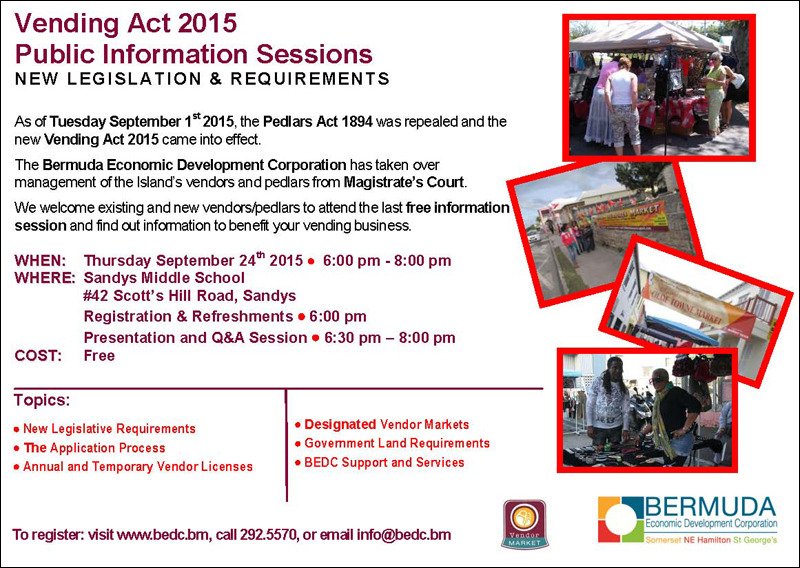 "The Government's Vendor Market initiative was launched in May 2008 by the BEDC as a pilot project that would support and encourage micro-enterprise within our community. The goal of this program was to develop successful vibrant markets that would promote entrepreneurship at the most fundamental levels.
"Since launching the Vendor Market initiative, over 200 vendors have registered with the BEDC and four vendor market sites have been established island-wide: the Rubber Tree Market in Warwick, the Olde Towne Market in St. George's, the Hidden Treasures Market in Somerset, and the Uptown Market in North East Hamilton.
"The BEDC remains vigilant in its mandate to support vendors and the vendor markets through vendor training, market knowledge, as well as the provision of site materials.
"One of the BEDC's key goals is to strengthen the vendor market industry and provide avenues for micro-enterprise to grow in Bermuda. Hence, this transfer of the oversight of the industry from the Magistrate's Court to the BEDC is a natural evolution in serving this business sector.
"For more information on the Somerset Vendor Act 2015 free information session or the Vendor Market initiative, please contact BEDC at info@bedc.bm or visit the BEDC website at www.bedc.bm."
Read More About