[Updated] A jewelry-maker based in the United States has come under fire from people in Bermuda for taking the island's sea glass, leading to a social media backlash against the business owner which seems to have prompted the woman to block many Bermuda-based visitors from her Facebook page.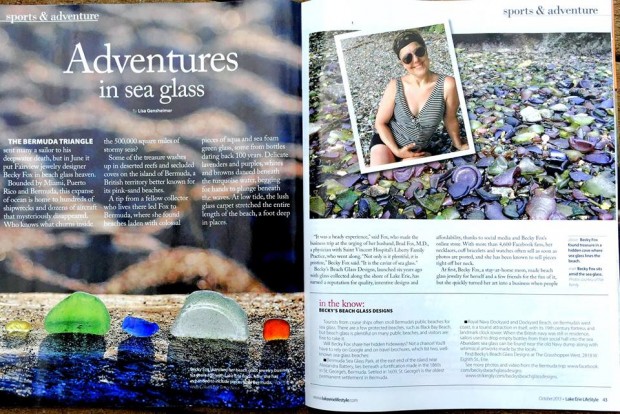 A story, originally posted on Goerie.com, said she loaded 70 pounds of sea glass into two extra suitcases — 3,000 pieces in all — and took it all back to the United States.
The story said, "The Bermuda Triangle sent many a sailor to his deepwater death, but in June it put Fairview jewelry designer Becky Fox in beach glass heaven.
"Some of the treasure washes up in deserted reefs and secluded coves on the island of Bermuda, a British territory better known for its pink-sand beaches.
"A tip from a fellow collector who lives there led Fox to Bermuda, where she found beaches laden with colossal pieces of aqua and sea foam green glass, some from bottles dating back 100 years."
This caught the eye of astute Bermuda residents who posted that removing sea glass from island beaches is against policy, with comments on the Facebook page ranging from a polite pointing out of the legal facts, to genuine anger at the appropriation of the sea glass.
It appears that she later changed her own Facebook page settings in order to block people on the island from accessing it or commenting on it, as per her status update below.
The raft of comments below all appear to be from people overseas, with some saying the "haters" and "evil people" complaining are "jealous".
Ms Fox's response to the criticism on Facebook, which appears to be blocked to many Bermuda visitors: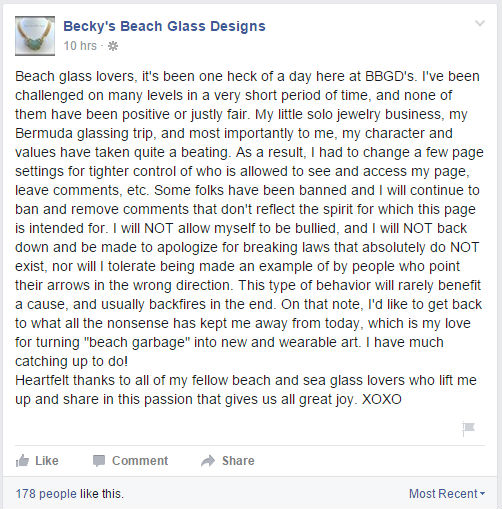 One commentator on the original story said, "It is a well known fact that removing or taking sea glass, shells or coral from our Bermuda beaches is in fact, illegal.
"She should either send the remaining glass she hasn't used back or at least whatever profits she makes should go to Bermuda charities. Note to any other tourists who wish to do the same: don't!"
"You should send it back, or perhaps the Bermuda Police and local police need to come and get it. It was illegal to remove."
Another comment said, "I can't believe they are allowing her to get away with this. Disgusted that she's so proud of herself! Another tourist attraction soon to turn into nothing. Shame on her."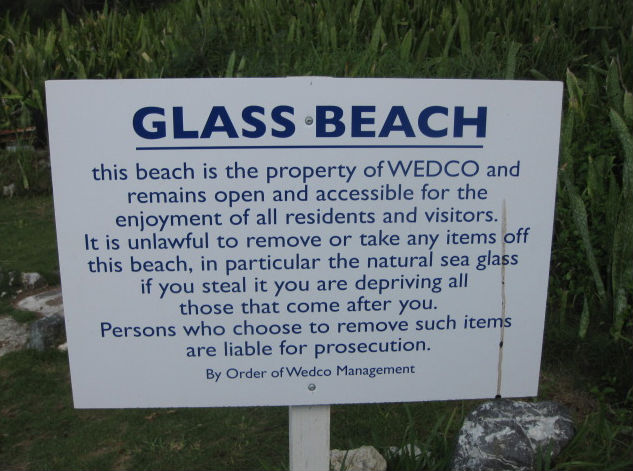 One comment suggested that police be contacted, saying, "Call the Bermuda police. At least have her put on stop list so she can't return. Goerie.com, you should be ashamed to promote this theft. It's against the law."
Once visitors realized that Bermuda residents were being blocked from the page, a comment said, "She's basically blocked anyone from Bermuda to accessing her Facebook page because of the backlash of what she's done.
"She knows what she did is wrong and is doing her best to try to limit the people from Bermuda to voicing their displeasure at her."
If you have been blocked from her Facebook page, you should be able to access it using a proxy server by clicking here and adding her Facebook URL [ https://www.facebook.com/beckysbeachglassdesigns ] in the box.
Update #1: She also appears to have deleted her Pinterest page, where she was promoting jewelry made with Bermuda beach glass for approximately $130 each. A screenshot of her Pinterest page is below, please click to enlarge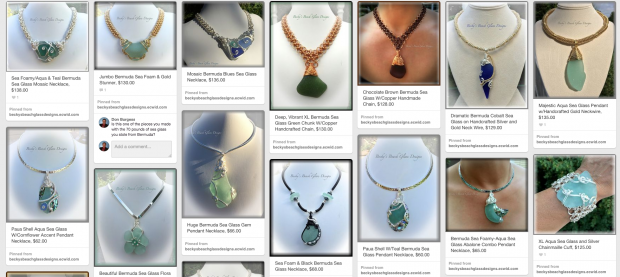 Update #2: A "Boycott Becky Fox' Beach Glass Designs" Facebook page has been started.
Update #3: We checked with the Government about this matter and were told, "If the glass was removed from a national park, then the National Parks Act 1986 would apply, as it is an offense to remove or take anything from a park. Our understanding is that the glass was removed from a beach in Dockyard which is not a national park."
Read More About
Category: All, Environment, News, technology