Tomorrow's Voices is getting set to host a Bounce for Autism Fun Day on Saturday, September 26, 2015 at the Southampton Rangers Sports Club field.
The event will take place from 2.00pm through 8.00pm, with admission costing $10 each for people aged two and over.
The day will include fun castles, a water side, large slide, water tag, velcro wall, bounce basketball, bounce boxing, Bermie Bouncers, dance competitions, face painting and tattoos, food and snack stalls, and more.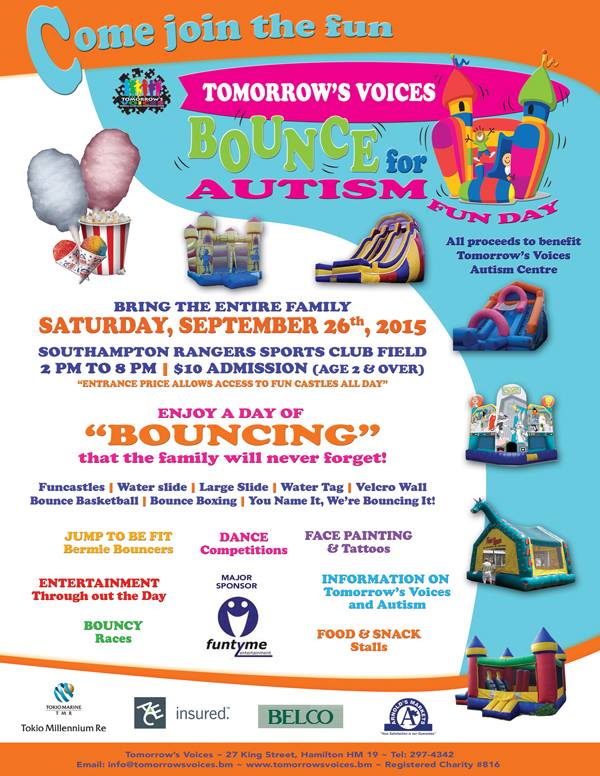 A spokesperson said, "Children with Autism love to bounce so we are hosting a Community Fun Day with the focus of activities being bouncing.
"Our fifth annual Bouncy Fun Day will include multiple fun castles, water slides, food and snack stalls, vendors, face painting, raffles, and many Bounce Off competitions!
"The day is designed to help Tomorrow's Voices raise awareness of autism and special needs while celebrating those young people and adults who live successfully every day with the disorder, and also to help us to raise funds for our much-needed centre and services.
"This event will not only bring together typical and special needs children to enjoy the same activities, but will also bring parents and families out to participate in a variety of games while supporting a charity so valuable to the Bermuda community.
"Funds raised from our Bounce For Autism Fun Day will go directly to continuing the sustainability of our autism centre that helps children with special needs every day of the year.
"We also need volunteers so if you are interested in helping us please let us know. Come get your bounce on."
Read More About
Category: All, Entertainment