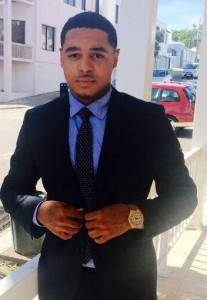 One of Bermuda's brightest young legal minds is departing for the United Kingdom to further his legal education at Durham University, with Eron Hill set to begin his studies next month.
Durham University is located in North Eastern England, on the border of Scotland, and its Law Program is third ranked behind Oxford and Cambridge University.
Mr. Hill was formerly employed at Christopher's Barristers & Attorneys, under the tutelage of Elizabeth Christopher and Saul Dismont before moving onto Compass Law Chambers under the tutelage of Mr. Charles Richardson.
Mr. Hill has also had the unique opportunity to work alongside the best legal minds this country has to offer in Victoria Pearman, Marc Daniels, Larry Mussenden, Craig Attridge, Susan Mulligan, and Vaughan Caines to name a few.
Most recently, Mr. Hill worked alongside UK Barrister and Attorney Courtenay Griffiths QC on a high profile murder case, with the noted QC saying: "Eron is a gem and will go far in this profession."
Marc Daniels of Marc Geoffrey Barristers & Attorneys said, "Mr. Hill possesses a wisdom and poise that inspired me to become a better counsel. I am particularly impressed with Mr. Hill's critical thinking skills. He is not only intelligent, but humble, which makes him even more special"
The budding lawyer and advocate for the youth voice announced earlier this summer his plans to write a book on the life of Bermudian Barrister, Attorney, and politician Julian Hall.
Mr. Hill indicates that although his experience with his mentors in the field has been that of a criminal and civil law background he will also explore the areas of international arbitration, insurance, and tax law.
Speaking on his plans, Mr Hill said: " I am looking forward to commencing my studies at this illustrious institution. I am determined and eager to ascertain my qualifications so that I can return home and continue to be a valuable asset to the community.
"I have so many people to thank for where I am today and where I am headed. I know that it's not always easy for them to deal with "Munchkin" as they frequently refer to me; and yet they show nothing but love and patience time and time again.
"We all have one or more heroes. I consider myself blessed because I actually get to work with, laugh with, build with, and call them my family. My gratitude for their contributions to my future success as a barrister, and more important as a man is immeasurable. I am forever grateful!"
Read More About