The St. David's football program is getting set to hold a registration drive on September 2, with plans to expand the program in a variety of ways.
A spokesperson said, "When one hears St. David's in reference to sport, it is automatic to think 'cricket'; St. David's has produced many well known local cricketers.
"However, it is not just cricket played on our luscious green field -some may say the best field on the island. – we are also dedicated to the glorious sport of football. With St. David's being a part of Bermuda's footballing history it was one of the teams that played in the now defunct Eastern Soccer League in 1978, they were forced to reapply to The Bermuda Football Association for readmission into their league in 1985.
The inaugural team in 1984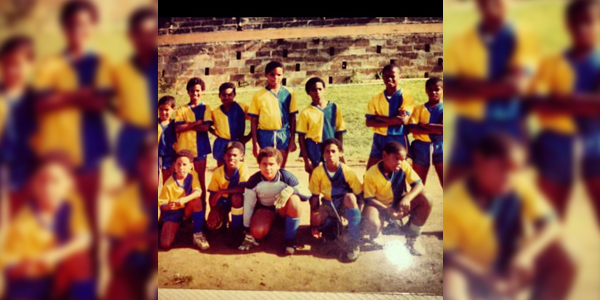 "After a few months of waiting for a successful application, Mr. Anthony Paynter recalls reading an article in one of the local papers whereby Dr. Gerard Bean stated that many of the local clubs did not have established youth programs.
"That article and a phone call to the 'Talk in Sport' program was the catalyst for St. David's re-admission into the BFA as St. Davids had a newly established mini-minor team.
"Mr. Paynter tells of watching 3 young boys, Millard James, Aaron Lugo, and Otis Minors, playing football during recess one day, he simply had to return at lunch. Their play convinced him of the need for a program in St. David's; and with support from the primary 7 teacher, Mr. Thamotharan, and parent permission, the St. Davids Mini-minor team was 'born'.
"That team of boys played for many years together, at one stage playing mini-minors, minors, and Bantam games all in the same day.  Of course as one could imagine, "the mini minors were taking licks" in the Bantam division, but it really all came down to their love of the sport and the drive of simply wanting to play."
The team in 2008: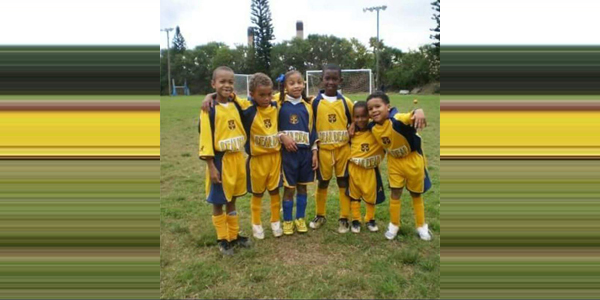 "Here we are, 30 years later, and we are delighted to say that the program is still here. We have had our highs and our lows but we have persevered as true Warriors do. Just a few short years ago, only seven players existed on an under 8 team. Now we have teams in the under 8, 10, 12 divisions as our dedicated players have matured and progressed over the years.
"As St. David's is a strong knit community, we would like to mention just a few persons who have been involved with our program during their childhood.
"Former president and current president Aaron Lugo and Otis Minors part of the inaugural mini Minor team; Sammy Robinson, OJ Pitcher [both prefer cricket over football]; Corey Robinson, former U20 National team Goalkeeper, Dante' Albouy former U20 National team forward and most recently young Leilanni Nesbeth who is off on scholarship at Bede's Academy, UK.
"We have many goals that we are aiming to achieve. Having sponsors, lights for our field, and also a van for transport of our players will help us to provide a program that can continues to grow and produce a healthy environment for our youngsters to excel not only in football but socially as well.
"We are known for our cricket, want to be recognized more for our football, and are aiming to be a place for our community, in the true tradition of the St. David's Islander ways.
"We are therefore asking for sponsors and donations towards our youth program. If you or your company is interested please contact Alshia Lugo @alshiajanel@yahoo.com or Raine Burgess @raine.burgess@bm.lockton.com
"We will be hosting our registration drive on Wednesday September 2, 2015. 5:30-7:30pm at the club grounds. Please come out and support."

Read More About