[Updated] Premier Michael Dunkley encouraged residents to pause today and join the global community in remembering those lost during the tragic events of September 11, 2001.
In particular, he asked the Island to remember the Bermudians and Bermuda residents – Rhondelle Tankard, Boyd Gatton and Robert Higley — who lost their lives that day.
Premier Dunkley said, "I'm sure everyone remembers where they were and what they were doing on that fateful day, 14 years ago. That unspeakable act of terrorism stole the lives of nearly 3,000 souls and changed our world forever.
"As we go about our day I'm encouraging all of Bermuda to please keep the family and friends of Rhondelle, Boyd and Robert in their thoughts, as well as the incredible acts of bravery and courage demonstrated by the rescue workers and first responders on September 11, 2001."
Later today, Premier Dunkley will visit the September 11th Memorial at the Botanical Gardens to honour those lost by laying flowers at the site, while Saltus Grammar School — who lost two former students in the attacks — will hold their own memorial.
At the World Trade Center, where most of the victims were, bagpipers and drummers will provide solemn tunes to accompany the ceremony today, CNN reports.
The names of the dead will echo as those gathered read them out and mark moments of silence at the specific times when the planes struck and the towers tumbled. The first plane hit the north tower at 8:46 a.m. The second one struck at 9:03 a.m.
At the White House, U.S. President Barack Obama will observe a moment of silence on the south lawn to mark the anniversary of the attacks. He is also scheduled to visit Fort Meade in Maryland, where he will talk with troops and express his appreciation.
Update 5.18pm: A government spokesperson said, "This afternoon, Premier Michael Dunkley laid a wreath at the September 11th Memorial at the Botanical Gardens and observed a moment of silence for those lost.
"The public will recall the coordinated terrorist attacks on the Twin Towers in New York City and the Pentagon in Washington, D.C. 14 years ago.
"Nearly 3,000 people died in the attacks, including Bermudians Rhondelle Tankard, Boyd Gatton, and Bermudian resident Robert Higley.
"Earlier today, the Premier encouraged residents to pause and join the global community in remembering and honouring those lost during the tragic events, as well as remember the incredible acts of bravery and courage demonstrated by the rescue workers and first responders."
Premier Dunkley lays a wreath at the September 11th Memorial at the Botanical Gardens as Cpl. Kenton Trott stands at attention: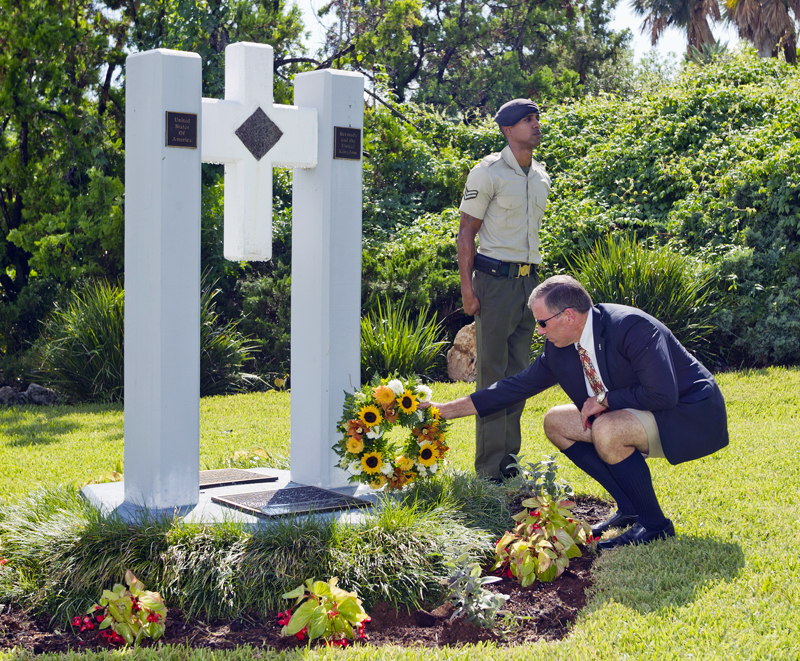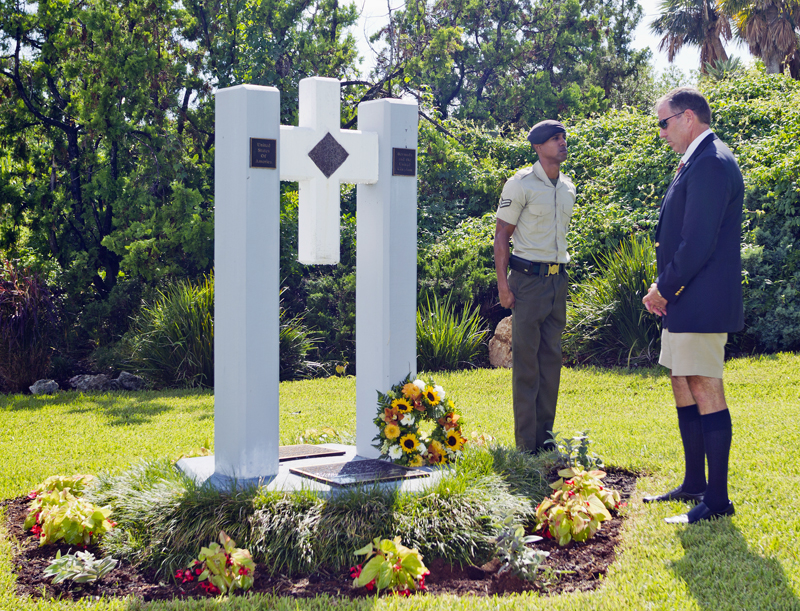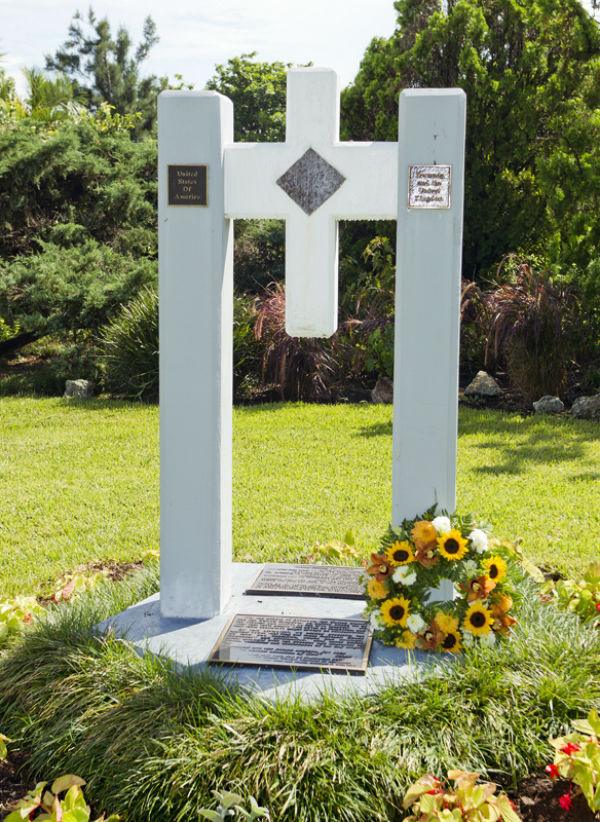 Read More About