[Updated with video] The Salvation Army Bermuda Division has announced its upcoming Congress, titled "Boundless Bermuda 2015," with this year's Congress to feature the world leader of the Salvation Army, General Andre Cox, along with his wife, Commissioner Silvia Cox, who is the World President of Women's Ministries.
The Congress will take place from November 12 through November 15.
Frank Pittman, Major, Divisional Commander of the Bermuda Division, said, "The Salvation Army is active in 127 countries, so to have the world leader come to Bermuda is quite an honor and exciting for us.
"Also joining us will be our Territorial Commander for the Canada & Bermuda Territory, Commissioner Susan McMillan, and our Chief Secretary, Colonels Mark and Sharon Tillsley, supported by my wife and I Majors Frank and Rita Pittman.
"2015 marks the 150 anniversary of The Salvation Army as an international movement which began its work in East London by our founder William Booth. It was celebrated with an International Congress in London, England this past July which saw 15,000 Salvationist gather at the O2 Arena, including a contingent of 66 of us from Bermuda.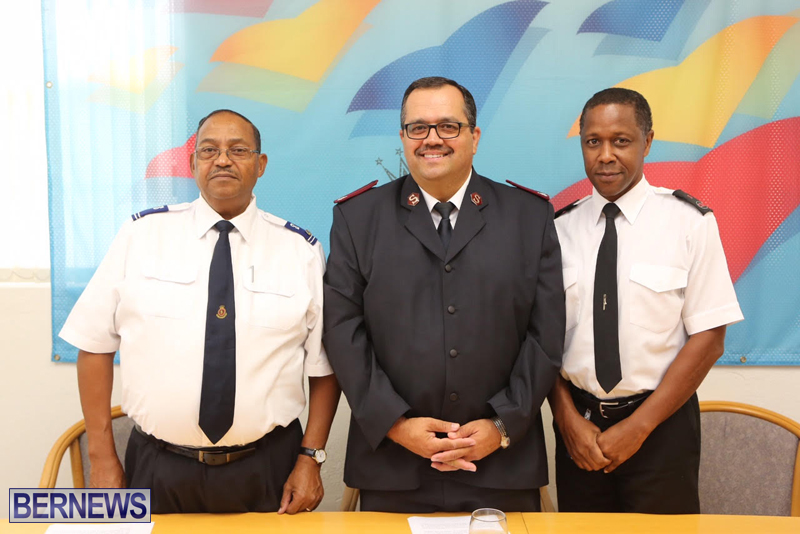 "Now we want to bring that excitement home. While we do not anticipate crowds of that magnitude, we are looking forward to reaching as many people as possible as we celebrate our faith and praise our Lord."
"The Salvation Army is well known for our social ministries which stems from our belief of "Heart to God – Hand to Man". First and foremost we are a strong vibrant evangelical Church therefore this weekend is all about strengthening our faith so that we can better serve God and our fellow man.
"We have a steering committee and 10 sub committees helping to organize this weekend, I'm pleased to have 2 representatives with me today, Brian Fubler and Calvin Ming. Brian will give a little glimpse of what the weekend will look like:
"Our congress will take place mainly at the Fairmont Hamilton Princess November 12 – 15. It will be preceded by the congress kick-off on the steps of the City Hall Thursday, November 12 at noon. There's something for everyone and we will be placing special attention on the youth during our Boundless Celebration on the grounds of the City Hall and a Youth Bash at North Street Citadel on Saturday.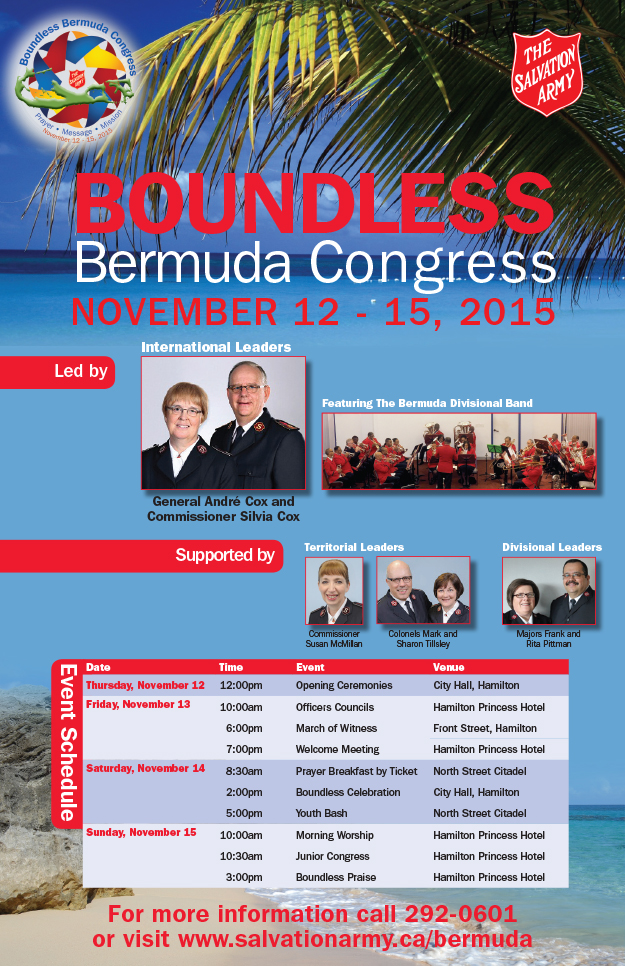 "There will be a March of Witness up Front Street Friday evening followed by our welcome meeting. Sunday morning we will have a worship service and a concluding celebration on Sunday afternoon.
"As we celebrate our history, some people may have old photographs of family members or events of The Salvation Army in Bermuda, if so, we'd love for you to contact us.
"A full schedule of events will be featured in all forms of media between now and November, along with television and radio interviews by our local Salvationist. We would like to invite the Bermuda Public to come celebrate and worship with us."
For more information, call the Divisional Headquarters at 292-0601 or visit the website.

Read More About