The second episode of the Bernews Podcast features interviews with road traffic collision survivors, with the 33-minute episode providing an in-depth look at two people who survived against the odds after suffering extensive injuries in motorcycle collisions.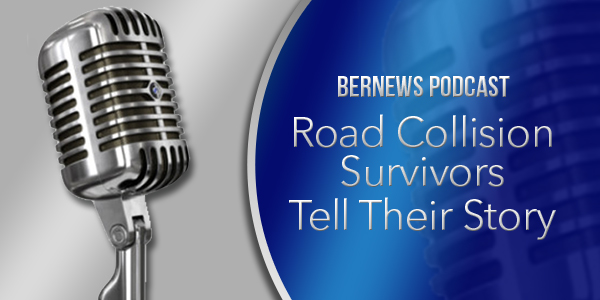 [Written by Jeremy Deacon] Sonya Smith's memory of the moment she was asked to say farewell to her son who was lying unconscious and critically ill in ICU is crystal clear.
She says she saw Tony Grant lying in his bed at the King Edward VII Memorial Hospital as all the monitors started to show that his life was ebbing away and just screamed.
As she did, something happened. Whether Tony actually heard her we will never know, but the life support indicators all picked up and he was literally back from the dead.
Tony, a keen motocross rider, had suffered massive brain injuries in a bike crash almost exactly five years ago in St. David's. He still has no memory of the incident or the intensive rehabilitation programme overseas that helped him to walk and speak again.
Ian Samuels was in the UAE, trial biking in the desert when he crashed, "breaking his body in two".
Doctors gave up on him, but he persevered and with the help of an Army instructor he fought back to walk again, although he is still quite limited in what he can do.
Now in Bermuda, he has to ride a bike again and is aghast at some of the antics he sees on the Island's roads.
While police report that the number of accidents on the roads is down and while we still wait for Government to finally announce road safety initiatives talked about in January , these two stories should serve as a vivid illustration of the very real mental, physical and emotional consequences of an accident.
You can also download the episode in MP3 format here, and you can also subscribe via iTunes to download episodes directly to your phone or tablet.
Read More About
Category: Accidents and fires, All, News, Podcasts