Scores of Saltus Grammar School students have disappeared thousands of miles overseas to take part in events ranging from public speaking, football and performing arts.
In total 120 students have left for Canada, Boston and New York and 16 more are spending their half-term sailing on the Spirit of Bermuda.
Jon Beard, Deputy Head and Director of Advancement, said: "We provide a wealth of educational opportunities for our students, and staff give up an incredible amount of their free time for this. It exemplifies the spirit and work of the school."
Varsity boys and girls have taken part in the Canadian Accredited Independent Schools [CAIS] football [soccer] tournaments.
The boys played in Montreal under the guidance of Saltus PE staff Tim Figureido and John Barry Nusum. The girls played in Toronto and led by Saltus Athletic Director Darrin Lewis, and PE teacher Lesley White.
The school has been involved in both tournaments for the last three years and next year it will host the girl's event.
Saltus Girls Football team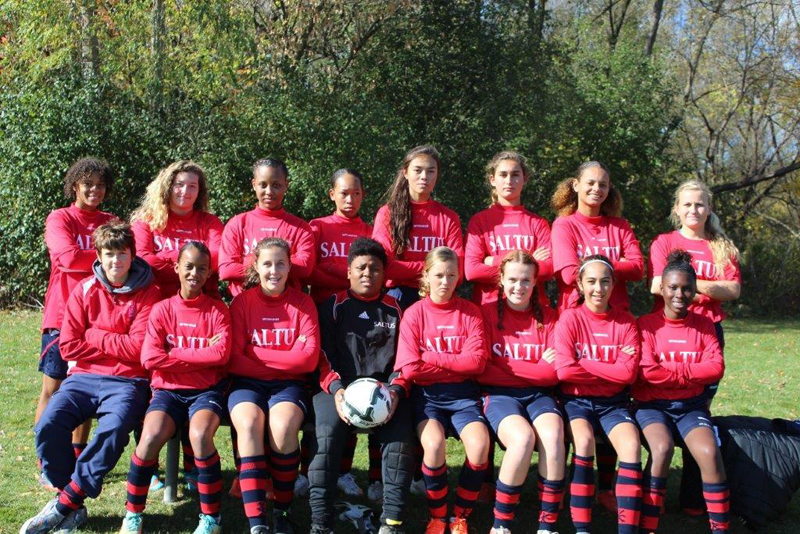 Saltus grade 11 IT students, with staff members Tina Fountain and John Meyer, are enjoying a 'techy' educational visit to Boston visiting museums and exhibitions, geo caching, following the city's technology trail and visiting MIT.
Six senior school students, with English teacher Freya Crofton, are attending the International Independent Schools Public Speaking Competition in Toronto, hosted by the York School. Saltus has been participating in the event since 2007.
Twenty senior students are in New York on a performing arts trip with Performing Arts staff Lisa Maule, Becky Jones and Sara Kelly, and will take in four shows as well as taking part in a characterisation workshop.
And on board the Spirit of Bermuda are 16 senior department students taking part in educational and team-building activities, with staff members Patrick Mahon and Becky Bolton.
Twenty-four Senior Year students are taking the annual trip to visit Canadian universities, accompanied by three members of staff, Nicole Chichon, Tanya Walker and Mr Beard.
They will visit at least 14 universities in a week, starting in Nova Scotia and then moving into Ontario.
Mr Beard said: "We have run this particular opportunity for more than 25 years and it allows student to visit a university when it is in session.
"The students get a greater appreciation of the size and type of university they will feel happy in, they're able to discuss courses with university personnel and students and they will get a clear understanding of a universities dorms and facilities."
He added: "It is really great to see so many students involved in so many activities both in Bermuda and overseas. These kinds of activities are a very important part of a student's overall education helping them to become good, rounded young citizens."
Read More About