The BTA's promotion — which offered pink bean bags in exchange for a donation to the youth sailing programme — ended shortly after it began at noon today [Oct 28], with all 30 bean bags claimed, and over $6,000 raised for the Endeavour Programme.
The BTA said, "A Bermuda Tourism Authority [BTA] fundraising promotion has created a surge of donations into the Endeavour Community Sailing Programme.
"The BTA offered Bermuda tourism-branded Fat Boy Bean Bag Chairs to encourage the public to donate to the America's Cup-inspired youth sailing effort.
"There was a limited supply of 30 bean bags available to any individual or company that donated a minimum of $200 via the Bermuda Community Foundation's website.
"The full inventory of bean bags was claimed in less than a day. The promotion has now ended. The total amount raised for the Endeavour Programme is $6,227.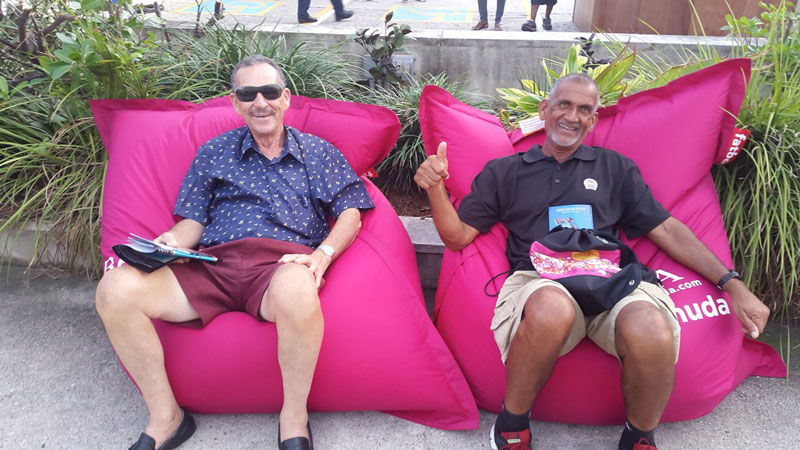 "The promotion was slated to run for one week, but instead ended shortly after it began at noon today. The bean bags became very popular during the Louis Vuitton America's Cup World Series. The BTA was inundated with requests to buy them once the event was over.
"The BTA requested to have the cost of the bean bags' Customs duty waived by the government so that the Endeavour Programme would receive the maximum benefit of the fundraising drive. However, Customs officials said they could not honour the request because the law did not allow for it.
"Ultimately, the BTA decided to pay the cost of Customs duty separately so that 100% of the funds raised today will go to the Endeavour Programme."
"We're proud to have played a role in helping this America's Cup legacy programme serve our community of young people with the benefits of science, technology, engineering, arts, maths and sailing," said Victoria Isley, BTA's chief sales and marketing officer.
Read More About