Top local cyclists Chequan Richardson and Dominique Mayho will be flying the flag for Bermuda at the 15th Elite Caribbean Cycling Championships in Barbados this weekend.
Hosted by the Barbados Cycling Union, this event is the pinnacle of regional cycling competition with the best cyclists from 25 countries looking for the titles in the Individual Time Trial and Road Race events.
Bermuda's team is a smaller version of prior years and, for the first time in several years, does not include any female representatives.
Bermuda Bicycle Association President Peter Dunne noted that this was due to both injury and busy schedules earlier in the year that has kept prior medalists Zoenique Williams and Nicole Mitchell from racing and a serious crash by Gabby Arnold a month ago which side-lined her for several months.
Che'quan Richardson and Dominique Mayho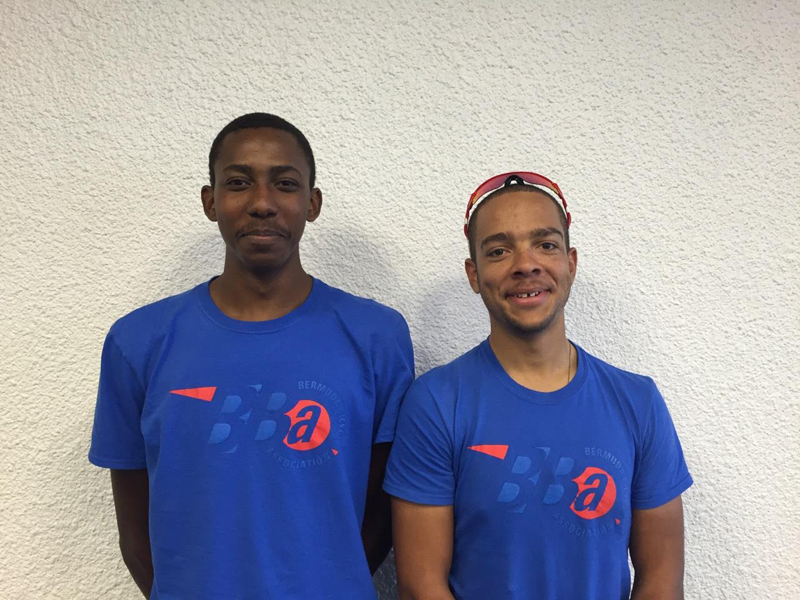 Mayho may be looking for some revenge after his result in Richmond, Virginia last month at the UCI World Championships. After getting caught behind a crash at the base of the steepest climb of the course he was distanced by the peloton and eventually withdrawn from the race.
While the temperature will be 20+ degrees warmer in Barbados than Richmond, the experience gained by him recently and from a 2015 racing season which included stints in California, Belgium, and Canada should prove beneficial.
"During this year I have raced internationally in some of the most challenging events and I hope to take all that I learned from those into the road race in Barbados", Mayho commented.
Bermuda College student Richardson has had a strong year of preparation for this event and shown that commitment to a personalised training program can yield results at a high level. This will be his second year at the regional championships and will be focussed on working the early parts of the road race to protect Mayho.
"I've worked very hard this year and have a training program developed specifically for me by my coach. Following this allowed me to get results I am happy with and qualified me to represent Bermuda again," Richardson said.
Both teammates started their cycling while at Berkeley Institute as part of the cycling club and quickly progressed to racing local events.
"Clearly these two athletes have taken advantage of the support of the Bermuda cycling community and the BBA's development activities to the highest level. It is immensely satisfying to have seen them transform from young high school students to competitive athletes", said BBA President Peter Dunne.
The team travels to Barbados today, Thursday October 15, and competition gets underway on Saturday with the time trial. Only Mayho will be riding the TT but both are entered in the 90 mile road race on Sunday. Travelling with the team are Paulo Medeiros as mechanic as well as Dunne.

Read More About