America's Cup Race Management [ACRM] Race Director Iain Murray has announced that today's [Oct 18] racecourse will once again be located to the west of Two Rock Passage in the Great Sound.
"The Bermuda Weather Service confirmed that a band of showers will cross the Island this morning and are expected to clear for this afternoon's racing. The winds are expected to be in the 8-12 knot range, and possibly higher, putting them well within the range for racing," the organisers said.
Video of flags blowing in the wind this morning on Front Street, which is a quite a difference from yesterday's conditions which saw very low winds:
"Boaters are reminded that the exact orientation of the Great Sound course will determined by the ACRM between 12pm and 1pm with the first race scheduled to start at 2:10pm.
"Therefore, boaters are asked not to drop anchor until the racecourse has been formed and should monitor VHF Channel 72 for up-to-date information.
"To help with clear communications the race organisers have asked that boaters listen only on channel 72 and limit their boat to boat transmissions on this channel. In case of emergency boaters should use VHF channel 16 as per normal protocol.
"The Official Stakeboats that form the outer edges of the race course will be flying RED Stakeboat Flags and orange banners, while the Course Marshals will be flying Green Course Marshal Flags.
"There is a 5-knot, no wake zone in place for the whole of Hamilton Harbour and the area surrounding the racecourse.
The map indicates the approximate racecourse for today. Recreational Boaters must observe the ring created by the marked Stakeboats Boats flying red flags, indicated by the numbered orange dots and red line on the map.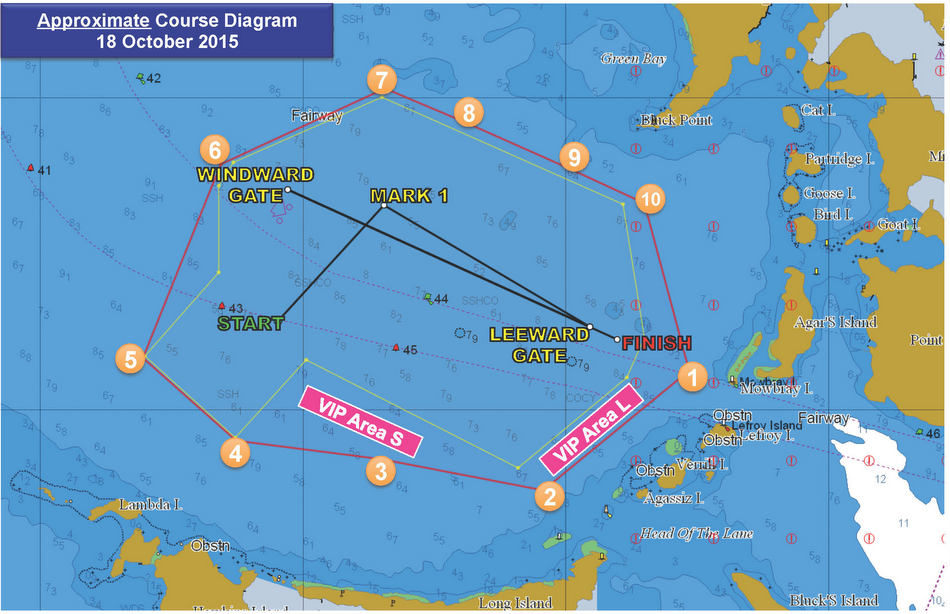 "There are three races scheduled for today, so the races will be shorter, approximately 16-18 minutes each, and because of this there is no planned finish in Hamilton Harbour for the last race as previously indicated.
"Despite the challenging conditions yesterday, the boating public responded exceptionally well," says Ralph Richardson, Chairman of the ACBDA On Water Operations Committee. "The racecourse management team and the course marshals should also be commended for their command of the fleet.
"We look forward to a great day of racing today and the continued cooperation of the boating public, it is vital to the success of the event," says Mr Richardson.
Yesterday the organisers said that all three races today will have double-point scoring, meaning up to 60 points are available, and racing is scheduled to start at the same time – 14:10 ADT [2.10pm Bermuda time].

Read More About