The Berkeley Institute came from behind to defeat CedarBridge Academy Blue 12-11 during the Bermuda School Sports Federation's Senior School Netball Tournament at the Bernard Park.
Zariah Amory led the champions with nine goals while Xah-niya Hunt chipped in with three. Inshan-nae Smith scored seven for CedarBridge, with Micah Pond scoring four.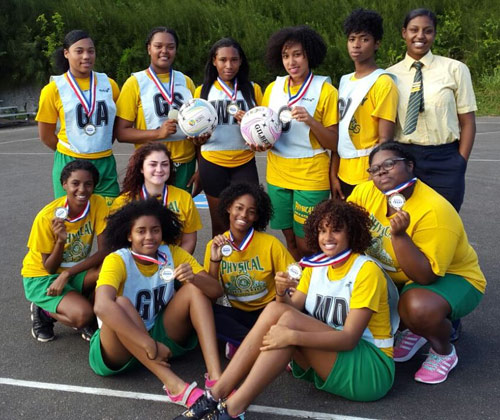 Pond scored all 11 goals for CedarBridge in their 11-0 semi-final win over Saltus Grammar School. Amory scored eight and Hunt scored two in Berkeley's 10-3 Semi-Final win over CedarBridge Red, while Tamera Simmons scored all three in a losing cause.
The tournament's Pool A saw CedarBridge Academy Blue defeat BHS Gold 11-4; Berkeley Institute defeat Saltus 10-2; Saltus defeat BHS Gold 8-7; Berkeley defeat CedarBridge Academy Blue 7-6; Berkeley Institute defeat BHS Golf 14-3; and CedarBridge Academy Blue defeat Saltus 5-3.
In Pool B, BHS Blue defeated Warwick Academy 6-0; 7 CedarBridge Academy Red defeated BHS Blue 7-5, and 7 CedarBridge Academy Red defeated Warwick Academy 11-3.

Read More About