News that Bermuda made National Geographic's 'Best of the World' list, a number of students graduated from C.A.R.E. Learning Centre, seven students received Logic community service awards, and a Canadian visitor wrote a glowing review of her trip to Bermuda were all some of the positive news stories from the past week.
In other good news, three Bermudians are taking part in a new in-house graduate programme on corporate administration,  two charities came together to create Banana Dolls for a good cause, a Canadian school installed a statue of Johnny Barnes, Davidrose Jewelry sponsored Miss Bermuda Alyssa Rose for the Miss World competition, and the Bermuda Sloop Foundation received a $33,000 donation.
Additional good news stories included the Cox family donating a new boat to Dr. David Wingate, the Green family donating $15,000 toward the 2016 Ag Show, Detre Bell being named an All-State American football player in Texas, Argus Group donating $15,000 to the Family Centre, Michael Cherry receiving the FEI Badge of Honour and the pool at Hamilton Princess being named one of the world's best.
We also posted various community photo galleries, including coverage of Bermuda Karting Club racing, the Cardboard Boat Challenge, the annual free Men's Health Screenings, Youth Parliament reconvening, the International Gymnastics Challenge, the Hannover Re 10K & Half Marathon, the Bermuda Heroes Weekend launch event and the Bermuda Society of Interior Designers wreath show.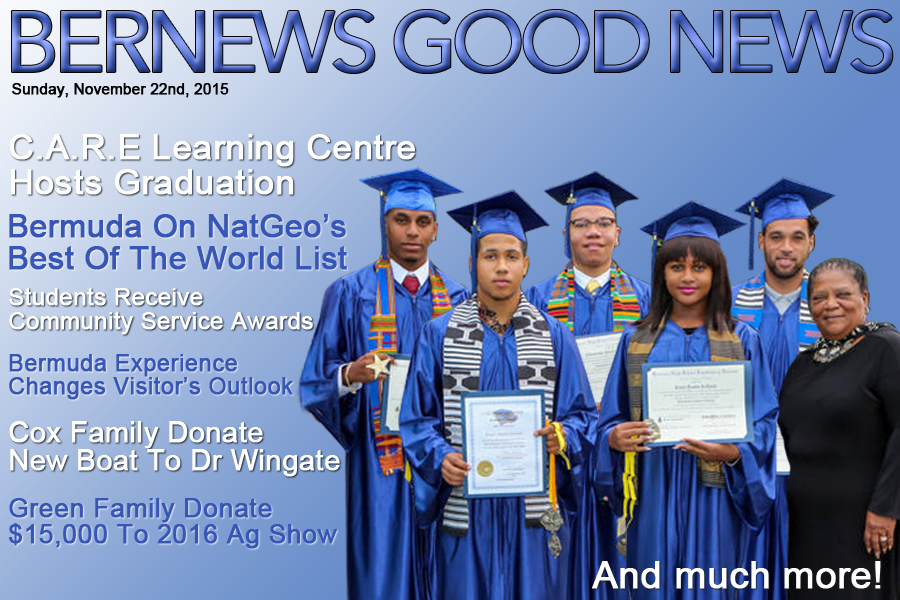 In an effort to highlight some of positive news happening in our community, we supplement our standard morning and evening email newsletters with a special Sunday "Good News" email newsletter edition, which strictly focuses on the positive news from the past week.
You can sign up to have the free newsletter delivered via email here, and/or access the links below. In addition, for those who like positive news, please feel free to visit our sister site ForeverBermuda.com, which seeks to showcase the best of Bermuda as well as provide information and listings for visitor related services.
Links to some of the 'good news' from the past week are below:
Read More About