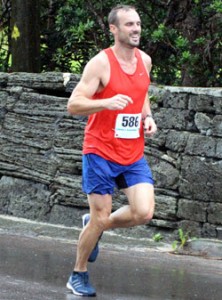 Spencer Butterfield and Rose-Anna Hoey are the 2015 Swan's Running Club's Annual Turkey Trot 10K Road Race champions following racing on Sunday morning.
Rainy conditions made the race along North Shore Road a little difficult, but Butterfield established a big lead, with Hoey running away from the ladies.
Butterfield clocked a winning time of 36.26, with Chris Allington finishing second in 39.45 and Craig Rothwell finished third in 39.59.
Hoey was fourth overall crossing the line in a time of 40.04, Melissa Logie was the second female finisher and 10th overall clocking 45.28 and Rebeca Shepard finished one spot back recording a time of 46.09.
Northshore Medical Centre Turkey Trot 10K Results
36.26 Spencer Butterfield
39.45 Chris Allington
39.59 Craig Rothwell
40.04 Rose-Anna Hoey
41.45 Justin Brenden
42.32 Peter Gracey
43.27 David Gazzard
43.44 Deon Heyns
44.17 Byron Rencken
45.28 Melissa Logie
46.09 Rebecca Shepherd
46.44 Grensy Quintero
47.16 Mike Gutteridge
47.35 Jerome Wellman
47.39 Eddie Fisher
48.21 Lucy Ching
48.25 Jenene Douglas
48.35 Gerhard Boonstra
48.39 Laura Wright
49.06 Kandis Matthews
50.03 Mairi Redmond
50.16 David Sotten
50.17 Sheikia Ming
50.26 Richard Mansfield
50.27 Joel Matthews
50.51 Robin Holder
52.11 Isabel Van Der Westhuiz
52.36 Louise Wells
52.40 Jennifer Gazzard
52.45 Lara Rogers
52.53 Andy McComb
53.40 Sean Simmons
53.42 Wayne Mouchette
54.38 Zina Jones
56.56 Carey Butterfield
56.57 David McHugh
57.43 Christopher Rodrigues
58.58 Dengie Fisher
59.16 Natalie Dyrli
59.53 Rachel Ball
1.00.19 Melinda DeCosta
1.00.19 Karl Brown
1.01.02 Michael Whalley
1.01.55 Kate Tomkins
1.03.26 Nicole Rozon
1.04.20 Marna Louw
1.04.22 Brittany Pitcher
1.04.57 Nashon Burrows
1.05.03 Georgenna Wilson
1.05.33 Nicky Gurret
1.05.53 Marie Trott
1.06.32 Florence Sharpe-Trott
1.09.55 Alshia Lugo
1.10.07 Edwina Arorash
1.12.05 Dana Lightbourne
1.21.08 Dee-Ah Iris
1.40.31 Ruby Dill
Walkers
1.06.00 Rebecca Perry
1.06.43 Gilda Cann
1.09.30 Christopher Douglas
1.10.17 Rhonda Brewster-Johnson
1.20.29 Renee Burchall
1.20.47 Jennifer Wellman

Read More About