The organizers of the first Amlin International Moth Regatta invite residents to the Royal Bermuda Yacht Club on Sunday afternoon [Dec 6] from 2pm to watch turbo-charged dinghies racing around Hamilton Harbour for $500 in prize money.
The Moth is an 11-foot dinghy that hydrofoils and has been clocked as fast as 28 to 30 knots of speed [32 to 34 mph]. Racing for the fleet of 60 sailors from 14 nations begins on Monday on Great Sound.
French Moth sailor Benoit Marie gets in some practice ahead of the event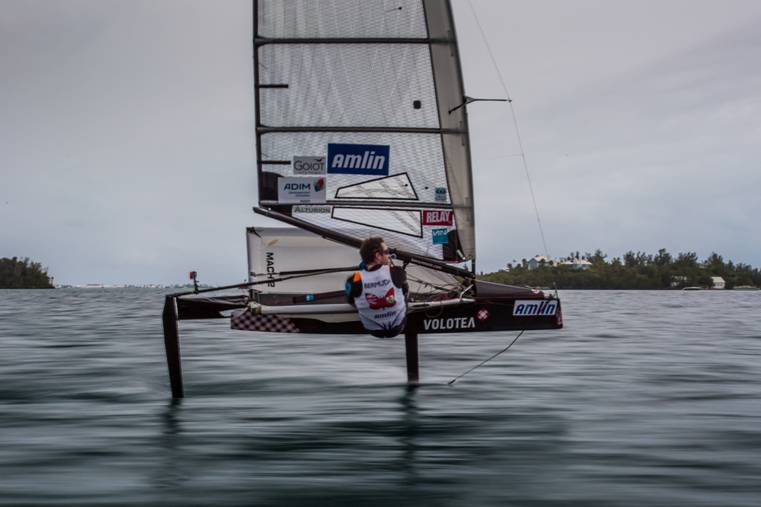 Tomorrow, however, is a practice day and principal race officer David Campbell-James hopes to sail the fleet on Hamilton Harbour, just off of the Royal Bermuda Yacht Club.
"So long as the wind direction is blowing the length of the harbour and not across it, we should be able to run some fun races," said Campbell-James. "We'll make the final decision on how the day plays out at a competitors' meeting tomorrow morning."
Depending on the number of sailors Campbell-James has a plan to sail two or three heats with the top five finishers advancing to the final race. The winner of that race would win $500, as offered by Amlin.
The Amlin International Moth Regatta is sponsored by Amlin plc, a FTSE 250-listed independent global insurer and reinsurer with operations in the Lloyd's, UK, continental European and Bermudian markets.
Additional sponsors include the Bermuda Tourism Authority, EFG International, Gosling's, the Official Rum of the Regatta, and Kaenon Polarized.
Read More About