American Dr. Ryan Anderson delivered two presentations on same sex marriage this week, having been brought to the island by the "Concerned Citizens of Bermuda" group, who said it was part of their "initiative to ensure that marriage in Bermuda remains defined."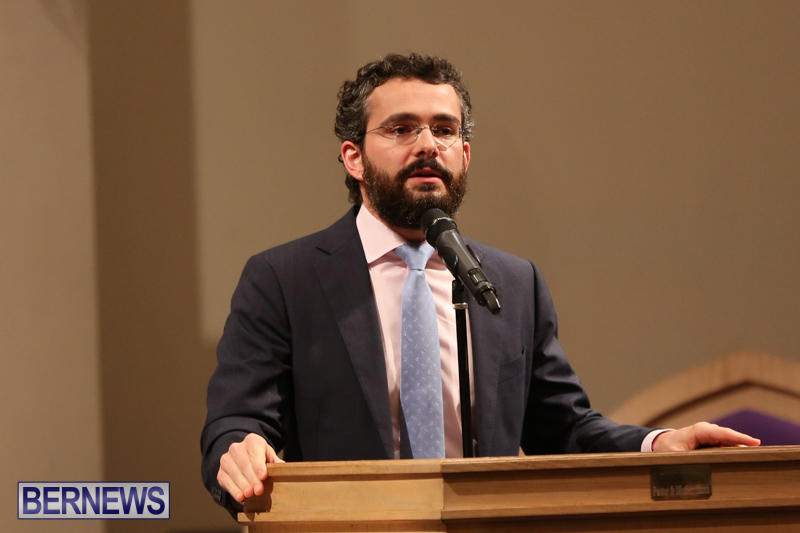 Hamilton Princess' Decision
When asked about the decision by Hamilton Princess to decline the booking to host the forums, Dr. Anderson said, "I think everyone should be free to operate according to their sincere beliefs; so if it's the sincere belief of Hamilton Princess that they are opposed to all the citizens who believe marriage is the union of a man and a woman, that's their prerogative.
"I just think it's a shame, though, that they aren't willing to host civil discussions on an issue of such public importance. Normally hotels, they rent out space for whatever group wants to rent it. It doesn't mean they're endorsing the speaker or the event; one week it might be the Democratic National Convention, the next week, the Republican National Convention. The hotel doesn't take sides – they just make space available.
"On an issue this important, you would want to have both sides given a fair hearing in the public square, but if the owners felt they couldn't do that, I don't want to coerce anyone into violating their beliefs.
"I want to say that in the States, the baker, the florist, the photographer, people who have been coerced by Government into celebrating same sex weddings, they should have the same freedom.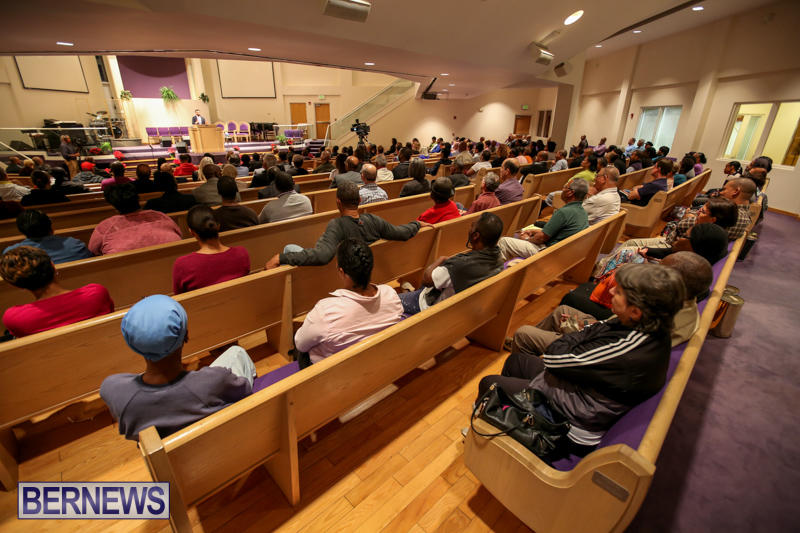 Recent Changes In Bermuda
When asked about the recent Court ruling as well as the marriage application, Dr Anderson said: "I'm not a lawyer, and I'm not a Bermudian lawyer, so I can't speak directly to your constitutional challenges. I would just say in general that as a matter of human reason, there are good reasons why marriage is the union of a man and a woman.
"There are good reasons for the law of any society to define marriage as the union of husband and wife. It would be problematic if any judge was saying that it was irrational or, quote, 'discrimination' to treat the union of husband and wife differently than other relationships.
"Marriage is unique for a reason, and it's reasonable for the law to treat it as a unique institution because it serves the public good. It serves the common good because it's based on human nature, and it unites men and women, husbands and wives, mothers and fathers.
The U.S. Legal Ruling
When asked about the legal ruling in the United States which same sex marriage legalized across all the states, Dr Anderson said,  "Just this past summer in the United States, the Supreme Court voted 5 to 4, so the slimmest of majorities possible, a 5 to 4 ruling forcing all 50 states to redefine marriage.
"There's nothing in the U.S. Constitution that tells us what marriage is. Some people think marriage is the union of two consenting adults regardless of their sexes. Other people think it's the union of a man and a woman, a husband and a wife, a mother and a father. The Constitution doesn't tell us which of those two visions is correct, and that's why judges shouldn't be making marriage law; the people should.
"The people of the United States went to the ballot boxes. They voted on marriage. In the vast majority of the states, they defined it as the union of a man and a woman, and then un-elected judges threw their votes out and forced those states to redefine marriage.
"That's not how a constitutional representative democracy should really work."
Visit To Bermuda
When asked about his visit to Bermuda, Dr. Anderson said, "I've had a great visit. This has been a wonderful trip for me. Lots of good conversations with lots of different people. Last night's event went really well. We had over an hour of Q&A after the initial presentation. I'm looking forward to tonight's presentation.
"What's been interesting is even people who have told me that they disagree with my position, have said they want to hear the arguments. That they want to hear what are the best arguments on the other side of the issue because it's only if you hear the best arguments on both sides of an issue, can you then make an informed decision.
"I've liked the spirit that I've encountered in Bermuda of, 'we want the conversation to take place.' This is the beginning of a conversation, and let's let it play out.
On Public Speaking
When asked about his public speaking in general, Dr Anderson said, "What I try to do is just help people who are probably inclined not to agree with me to at least understand where I'm coming from.
"I try to make an argument based on philosophy and social science and human reason about why every society, all across the globe, and all throughout human history up until 15 years ago, define marriage as the union of a male and a female.
"I try to help people understand that there are good reasons for that historical consensus and that those good reasons haven't been overridden by new discoveries.
"There's still good reasons today to continue defining marriage as the union of a man and a woman, a husband and a wife, a mom and a dad. Even if they come away disagreeing with me,
"I at least hope they understand where it is that we disagree, and this isn't simply a matter of ignorance versus enlightenment or backwards superstition versus the forces of reason.
"There are good arguments on both sides of this debate," added Dr Anderson.

The two forums follow after the decision by the Supreme Court as well as the recent filing of a marriage application by a same sex couple.
Last week the Supreme Court of Bermuda ruled that non-Bermudian same-sex partners of Bermudians, who are in committed relationships, are entitled to live and work in Bermuda, with the ruling saying as "same sex marriage was neither possible nor recognised under existing Bermudian law, the relevant statutory provisions discriminated against Bermudians in stable same-sex relationships in an indirect way."
Following that, a gay couple filed an official notice with the Registrar General that they want to get married in Bermuda, saying that "it would set a precedent, and we would be equal in the eyes of the law."
Bermudian Ijumo Hayward and American Clarence Williams III are being represented by lawyer Mark Pettingill, and Mr Hayward's mother, Pastor Sylvia Hayward-Harris, has said she hopes to officiate at the couple's wedding in Bermuda.
Read More About