Following a 17-year-old being injured in an incident involving the police, the young man and his family have alleged that he was "beaten" by the police, while the police alleged that he "violently resisted them" and "sustained injuries during the struggle."
Police Statement
A police spokesperson said, "Around 7:00 pm on Friday 1st January 2016, police officers patrolling on Dundonald Street, Pembroke had reason to stop a motorcycle being driven by a 17 year old male with a passenger.
"The rider did not stop, and he led the police on a protracted chase through the City that eventually ended on St. John's Road. Officers attempted to arrest the rider who violently resisted them.
"The rider sustained injuries during the struggle. He was arrested and conveyed to hospital for treatment and he is expected to be charged with a number of offences in due course.
"The BPS was made aware today that the rider made allegations via social media that the police used excessive force during his arrest.
"We have provided him with the opportunity to make a formal report to the Police Complaints Authority [PCA] so that his complaint can be investigated.
"Anyone that has any information related to this incident is asked to contact Sgt. Brian Mello in the Police Complaints Authority on 247-1299."
Social Media Post
The screenshot below is taken from social media, with his sister saying: "My 17 year old brother who is not a gang member was beaten by Bermuda Police tonight. This is not right they said he fell off the bike he was riding."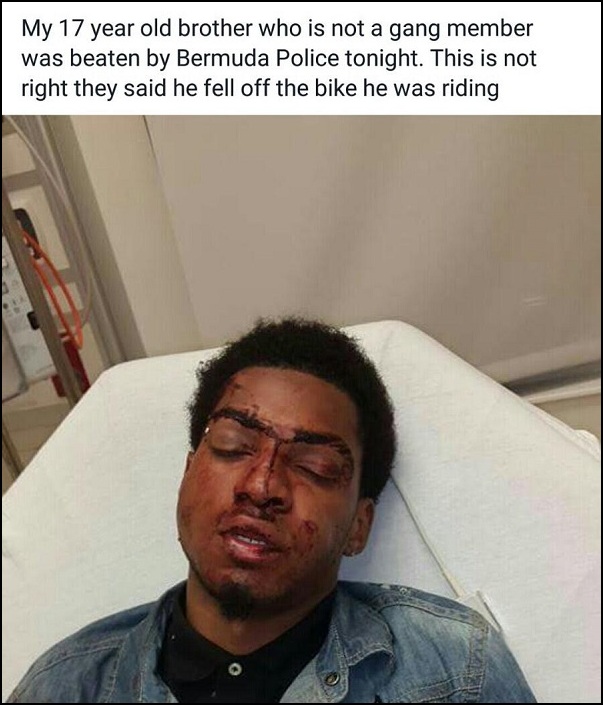 Family Comment
The young man's sister strongly refuted the police statement, telling Bernews: "My brother did not resist as he has no marks on his arms or hands, just his face and head." She also provided the photo below taken as her brother was in hospital receiving medical treatment.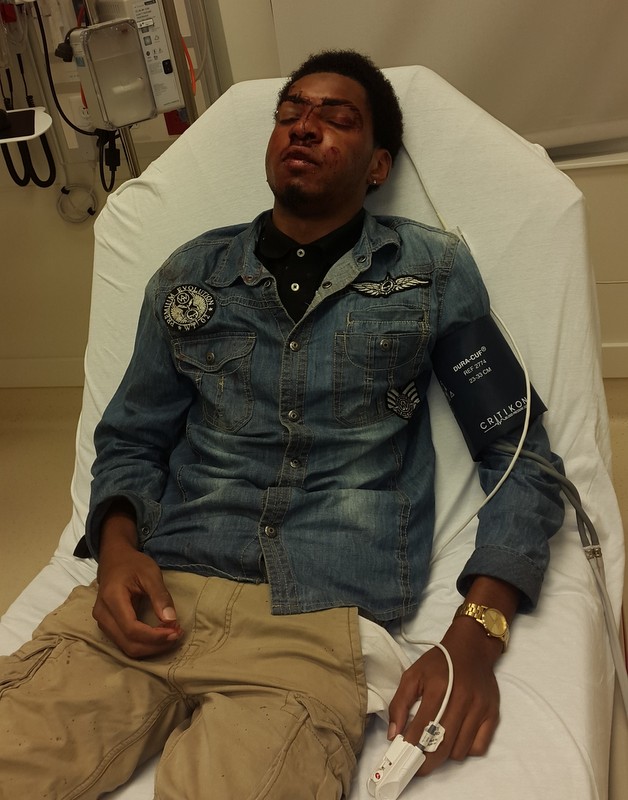 Ms Swan added, "My brother does not have road rash or grazes. He just was beaten… one look and you can see if he resisted why he didn't get pepper sprayed or tazered. We,the family of Stanwon Swan, will be holding a full investigation on this matter all officers involved will be dealt with as we will take it to court.
"My brother will not lie he did not bump his head. The police need to explain the bleeding on the brain and beating. So because he had a chase its ok to almost kill him…nonsense!
"I know they will try to cover up all patches but this one they can not cover up what they did was cowardly on this young boy. They are wrong," she added.
She also added that its the Court's job to determine justice, not an individual police officers. She also said they have multiple witnesses that are willing to come forward and the family intends to continue to press the issue.
"Those officers need to be suspended immediately," she said. "He is a minor, he is only 17-years-old."
In His Own Words
The video below shows Mr Swan describing what he said occurred. His sister said he is still in the hospital as of this writing.
Read More About