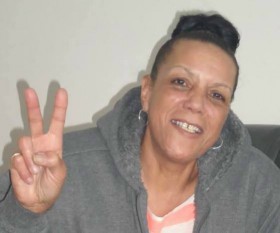 [Written by Don Burgess]
The Bermuda community is reeling from the death of beloved Andrea Burgess.
Ms. Burgess, 55, died on Tuesday.
She always managed a sunny disposition and a firm belief in God despite the tragedies that fell along her path in this life, including the untimely deaths of two of her children.
Ceola Wilson, who has known Andrea since high school said she was "shocked" by the passing of her friend.
"Like many whose lives she has touched I was shocked into a state of disbelief on hearing of her sudden passing," Ms Wilson said.
"Whenever I think of Andrea, I think of her big, bright, engaging smile, and her tall, stately stature from way back to our high school days. But most of all I think of her as a pillar of strength in the face of adversity.
"I don't know too many parents who have had to face the tragedy of burying not one, but two children. My cousin is one, and Andrea is the other. And through it all she stood firm, one tragedy after another including the untimely death of her beloved brother many years ago," Ms Wilson added.
"There are many hearts left heavy by her death. And I send heartfelt condolences to her family from mine – especially to her daughter and grandchildren. May her warm, loving, and formidable spirit live on forever in the hearts and souls she leaves behind."
Brenda Jones described her cousin as a "very loving, caring, sharing, honest person. She was someone you can rely on and talk to if you need her she was always there."
Ms Jones said Andrea's life revolved around her children and family and how Andrea would always put them first before her own needs.
"Ann was amazing. There is no one like her — she was one of a kind."
On Facebook, there was a steady stream of tributes for Andrea.
Daron Strother wrote: "You were a role model to me. You taught me that tragedy can be turned to faith… Now I will turn my tears to a smile as you knew how to do."
Karen Magnum told Bernews that she and Andrea had been friends for over 30 years and is one of the Godmothers to Andrea's daughter Ebonie. She said Andrea had been living a good life in Costa Rica that was both simple and natural.
"I am still shocked by how sudden this all was. One day she is here and the next day she is gone.
"Andrea had a wonderful spirit. She was always willing to give of herself and listen. Her friendliness and outgoing nature can be shown by the many lives she touched. She helped to mother many young people who always came to her for guidance and support.
Ms Magnum added: "She was a very wise woman and had been following her spiritual path of preaching. I kept telling her she should become a pastor."
Gail Marshall told Bernews that she wanted the news of Andrea's passing to be a bad dream.
"The thought of her poor daughter Ebonie and my heart was broken — it was pure shock."
Ms. Marshall described Andrea as a free spirit, fun loving with a kind heart.
She said Andrea was "one of the strongest women I know. She had such a beautiful smile that would hide her pain and heartache. She just believed and kept the faith and will be missed by every last person she met."
Rosemarie Pedro quoted Ephesians 4:31-32 as a testimony of how Andrea lived her life.
"Let all bitterness, and wrath, and anger, and clamor, and evil speaking, be put away from you, with all malice. And be ye kind to one another, tenderhearted, forgiving one another, even as God for Christ's sake hath forgiven you."
Crystal-Rose Fox wrote that Andrea taught her what true forgiveness was – not through words, but by her actions.
Ms Fox added: "I will miss her big smile, vibrant personality and the longest and warmest hugs" she had ever received from a person.
Read More About