"The PLP joins our voice with the Bermuda Union of Teachers in expressing grave concern over the current state of our schools," Shadow Minister of Education & Training Lovitta Foggo said today.
Ms Foggo said, "If we are to adequately prepare our students for tomorrow then we must be willing to ensure that best practices recommended for a 21st century education system are implemented.
"The SCORE committee did a comprehensive and detailed review of our schools, and I question whether the OBA government, who can ill afford to cherry pick or use a bandaid approach in response to SCORE's findings, is seriously committed to the advancement of our educational system.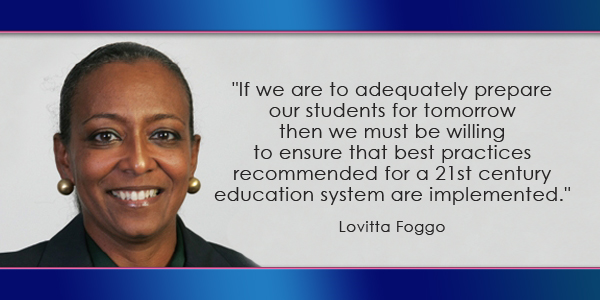 "There are many who have argued that class size and the physical conditions of schools, among other issues, seem to have had little impact on a students' outcome. Research has proven, however, that the environment currently needed to enhance student success does impact student productivity.
"Times have changed and technology is a major influence in that change! Technology and the exposure available to students, have greatly impacted instructional methods, the learning environment and consequently teaching techniques have had to be modified to meet the learning styles and needs of our modern day students, to ensure that our students are adequately prepared with the skills to successfully operate in our society today.
"Employing 30 year old strategies in today's environment 'will not cut the mustard'. It will not prepare our children to be key players in the 21st century, It will not prepare our youth to compete globally, and it will not properly equip our students to take up employment in their own country.
"It is evident through research that when a government adequately invests in its education system, it gets better desired student outcomes. We must have the appropriate infrastructure and resources so that our children can excel in class.
"It is inexcusable that the governments of the past, and the current OBA government have not provided the environs necessary for a quality education in our institutions of learning.
"On behalf of the PLP, I thank the Minister of Education for tasking SCORE with the review and now ask that he seriously commit proper resources to render our schools to a state needed for optimal learning.
"A quick fix won't do, and a proper fix must do! Closing schools is not an acceptable solution when it will not fix the issues we face, nor will it meet with best practices outlined in SCORE.
"The PLP believes that providing our students with a quality education which nurtures and develops our young people into expert, competent and confident individuals who are equipped to assume any role in our society or beyond is the order of the day.
"Our Replies to the Throne Speeches 2013, 2014 and 2015 all placed Education as a main priority, as we understand our people are our most precious commodity, and our youth are a gem that we must invest in.
"When returned to government we will stand behind our commitment, and until then, we will assist the present government in bringing about the required changes to improve our schools. Our children and their futures deserve nothing less then 100% of our combined commitment!"

Read More About