News that Jadiyah Bailey and Shanna Henry were named as recipients of the Nadanja & Nishanthi Scholarships, the International Paralympic Committee ranked Jessica Lewis as third in the world in the 100 metres and fourth in the 200 metres, and Nahki Wells scoring another goal and being voted as Huddersfield Town's Player of the Month for December were all some of the positive news stories from the past week.
In other good news, local company Xtreme Sports will launch its corporate line later this year, Marsh and Guy Carpenter donated $7,500 each to Friends of Hospice and Family Centre, Djair Parfitt-Williams scored in a West Ham United Development Squad win, celebrity Chef Marcus Samuelsson will team up with Harlem Chef Melba Wilson for a 'Harlem Meets Bermuda' dinner, and the Bermuda Silver Jubilee Trust is welcoming applications for funding under its grants scheme.
We also posted various community photo galleries, including coverage of the BCB Youth Cricket Winter Holiday Clinic, the Post Holiday Dinner held in St. George's and Ismay Anderson Steede's 100th birthday celebrations.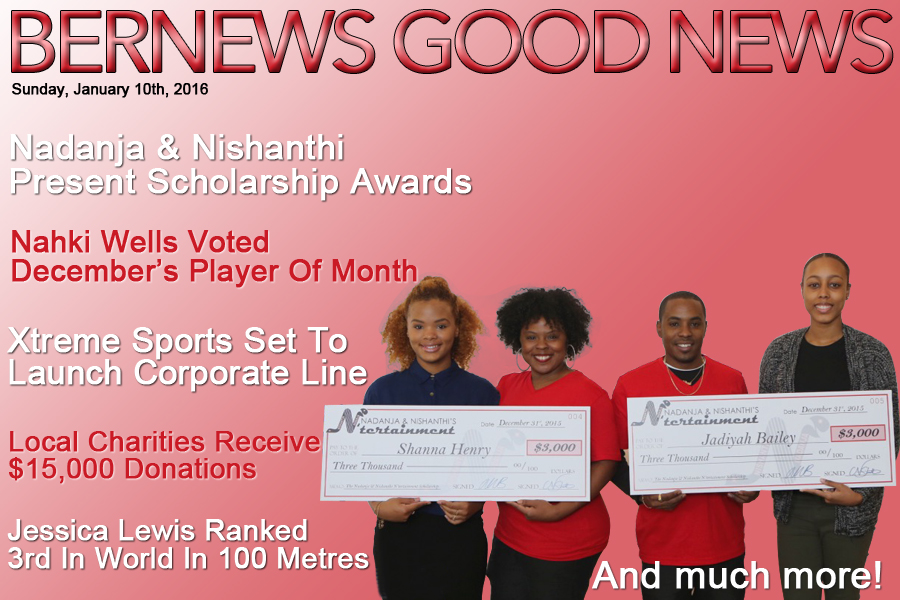 In an effort to highlight some of positive news happening in our community, we supplement our standard morning and evening email newsletters with a special Sunday "Good News" email newsletter edition, which strictly focuses on the positive news from the past week.
You can sign up to have the free newsletter delivered via email here, and/or access the links below. In addition, for those who like positive news, please feel free to visit our sister site ForeverBermuda.com, which seeks to showcase the best of Bermuda as well as provide information and listings for visitor related services.
Links to some of the 'good news' from the past week are below:
Read More About