News that Bermudian Anna Mackenzie was named to Forbes '30 Under 30' list, Patrick Singleton has been named to a top International Olympic Committee post, and the Berkeley Institute highlighted eleven S2 students who sat the IGCSE exam in English Language were all some of the positive news stories from the past week.
Other good news stories included Djair Parfitt-Williams scoring his fifth goal in four game for the West Ham Development squad, two interns graduating to full-time positions at Bermuda IT company Fireminds, and Bermuda's James Stout retaining the British Open singles title he won last year.
In additional good news stories, Butterfield received two International Financial Centre Awards from Citywealth, registration for the free Tokio Millennium Re Pee Wee 'Have-a-go' Cricket Program opened, and Bermudian poet Nancy Anne Miller was named 'Poet of the Month' by The Missing Slate.
We also posted various community photo galleries, including coverage of the Danish National Swim Team in Bermuda, Premier and First Division football, basketball league action, Prestige Autos' launch of the new Mercedes-Benz GLA and Harrington Sound students performing a skit on the 1959 Theatre Boycott.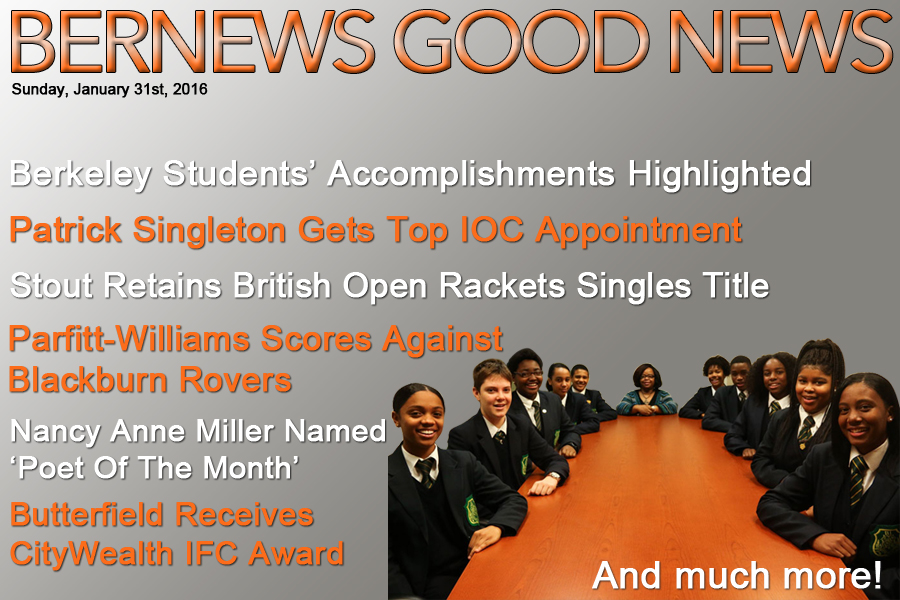 In an effort to highlight some of positive news happening in our community, we supplement our standard morning and evening email newsletters with a special Sunday "Good News" email newsletter edition, which strictly focuses on the positive news from the past week.
You can sign up to have the free newsletter delivered via email here, and/or access the links below. In addition, for those who like positive news, please feel free to visit our sister site ForeverBermuda.com, which seeks to showcase the best of Bermuda as well as provide information and listings for visitor related services.
Links to some of the 'good news' from the past week are below:
Read More About