The Ministry of Economic Development and Department of Ecommerce are getting set to hold a TechTalk panel discussion covering "data management and security" on January 28.
The event will be held at the Royal Hamilton Amateur Dinghy Club, with a reception at 5.30pm and the talk getting underway at 6.00pm.
The panel will include Mary Kotch, EVP Global Chief Information Officer – Validus Holdings; Chris Maiato, Principal, Advisory Services – Ernst & Young Ltd; Derek Maki, Senior Manager, Advisory- Deloitte; and Caroline Rance, VP, Information Technology – Ascendant Group.
The discussion will be moderated by Sheridan Smith, Director, Management Services/Information Technology, Bermuda Monetary Authority.
Attendance is free, with one CPE credit available; food will be provided, a cash bar and raffle prizes will be available.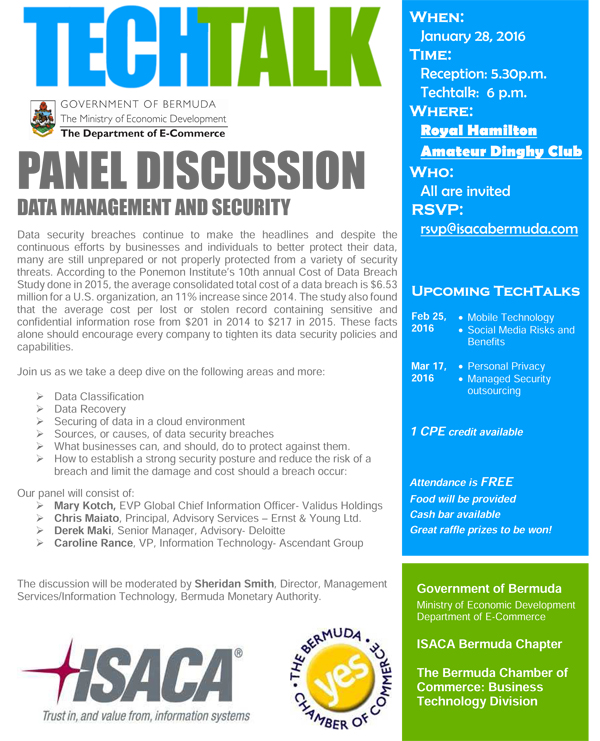 The event poster says, "Data security breaches continue to make the headlines and despite the continuous efforts by businesses and individuals to better protect their data, many are still unprepared or not properly protected from a variety of security threats.
"According to the Ponemon Institute's 10th annual Cost of Data Breach Study done in 2015, the average consolidated total cost of a data breach is $6.53 million for a U.S. organization, an 11% increase since 2014. The study also found that the average cost per lost or stolen record containing sensitive and confidential information rose from $201 in 2014 to $217 in 2015.
"These facts alone should encourage every company to tighten its data security policies and capabilities.
"Join us as we take a deep dive on Data Classification; Data Recovery; Securing of data in a cloud environment; Sources, or causes, of data security breaches; What businesses can, and should, do to protect against them; and how to establish a strong security posture and reduce the risk of a breach and limit the damage and cost should a breach occur."

Read More About
Category: All, technology