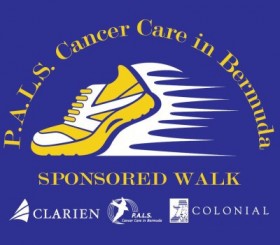 P.A.L.S. invites Bermuda to Walk With Me for Cancer Care by taking part in the 28th Annual P.A.L.S. Walk set for 8.30am this Sunday, February 21st.
More than 200 people have already registered for the popular community event which is the organisation's major annual fundraiser, with proceeds going towards vital medical care, equipment and supplies for cancer patients in Bermuda.
Clarien Bank and Colonial Insurance are the sponsors of the event, which last year attracted 200 individual and team walkers and raised more than $20,000.
This year's event will start and finish at P.A.L.S. Headquarters at 18 Point Finger Road, Paget, with three new out and back routes along the scenic Railway Trail to suit walkers of all ages and abilities. This year, participants can choose from 3K, 5K and 10K distances.
Participants must register before the event – there will be no registration on the day of the Walk. Adult registration fee is $25.00 and children 5-15 years $5.00. Registrations can be made:
Online at www.pals.bm until Friday, February 19 at 5:00pm
In person at P.A.L.S. Headquarters  every day from 9:30am to 4:30pm until Friday, February 19
At Washington Mall from 11:30am to 1:30pm on Wednesday, February 15 and Friday, February 19
Late registration will be available at P.A.L.S. Headquarters on Saturday February 20 from 10:00 a.m. to 2:00 p.m.
Walk kits will be available for the first 400 adults to register and can be collected from P.A.L.S. Headquarters from 9:30am to 4:30pm.
Although the event is a Walk, participants can run the distances if they wish – but it is not a race and there are no prizes for finishing first.
Participants who raise more than $500 and return pledge forms by February 28 will be entered into a prize draw on March 8. There will also be draw prizes following the Walk but winners must be present to claim their prize.
Karen Dyer, P.A.L.S. Executive Director, commented: "We are thrilled that so many people have already registered to take part in the Walk and we look forward to even more signing up before Sunday.
"We designed the new routes to be more inclusive so that everyone – young, old, families and friends – can come out and have fun raising funds for P.A.L.S.
Michael DeCouto, Chief Marketing Officer of Clarien Bank, said: "We are looking forward to this year's Walk and helping to make it an even bigger success than last year, which was our first year sponsoring the event.
"Many of our employees will be actively involved either as participants or volunteers and we encourage everyone in Bermuda to "Join the Journey" and Walk with Me for Cancer Care in Bermuda."
For additional information, please visit www.pals.bm.

Read More About
Category: All