The Bermuda Karting Club's season continued at the Southside Raceway.
Steven Eversley won two of the three Tag Senior Class races on the day, with Robert DeCosta picking up the other win.
Blake Horseman won all three races in the Tag Junior Class, while Owen Decosta finished in second place three times.
Ryan Burgess won all two of the three races in the Cadet Junior Class, Jamie Newton raced to the checkered flag in the other race.
Shannon Caisey won two of the three races in the Shifter Modifier Class, with Devon Durrant winning the other. Jason North took the checkered flag twice in the Shifter Stock Class, while Ryan Rebello won the other race.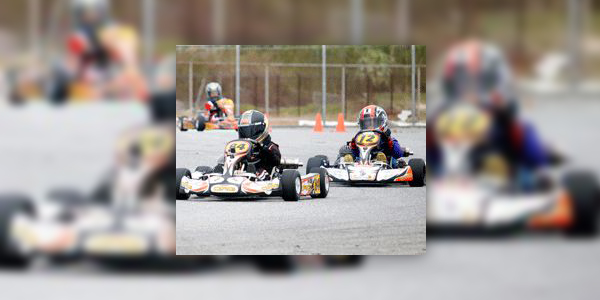 Tag Senior Class Race 1
1 Steven Eversley
2 Jason North
3 Richard Walker
4 Bilal Binns
5 Robert Decosta
6 Amber Lopes
7 Ryan Rebello
Tag Senior Class Race 2
1 Steven Eversley
2 Amber Lopes
3 Jason North
4 Robert Decosta
5 Richard Walker
6 Bilal Binns
Tag Senior Class Race 3
1 Robert Decosta
2 Amber Lopes
3 Jason North
4 Richard Walker
5 Bilal Binns
6 Steven Eversley
Tag Junior Class Race 1
1 Blake Horseman
2 Owen Decosta
3 Ryan Lopes
4 Nick Narraway
Tag Junior Class Race 2
1 Blake Horseman
2 Owen Decosta
3 Nick Narraway
4 Ryan Lopes
Tag Junior Class Race 3
1 Blake Horseman
2 Owen Decosta
3 Ryan Lopes
4 Nick Narraway
Cadet Junior Class Race 1
1 Ryan Burgess
2 Nile Bean
3 Jacob Perreira
4 Nathan Decosta
5 Ashley Horseman
6 Jacob Hines
7 Jorja Thomas
8 Charlie Hildabrand
9 Jayden Brimmer
10 Jamie Newton
Cadet Junior Class Race 2
1 Ryan Burgess
2 Nathan Decosta
3 Ashley Horseman
4 Jacob Hines
5 Jacob Perreira
6 Jorja Thomas
7 Jayden Brimmer
8 Charlie Hildabrand
9 Nile Bean
Cadet Junior Class Race 3
1 Jamie Newton
2 Ryan Burgess
3 Nile Bean
4 Ashley Horseman
5 Nathan Decosta
6 Jorja Thomas
7 Jacob Perreira
8 Jacob Hines
9 Charlie Hildabrand
10 Jayden Brimmer
Shifter Modified Class Race 1
1 Devon Durrant
2 David/Mark Selley
3 Edward Stowe
Shifter Modified Class Race 2
1 Shannon Caisey
2 David/Mark Selley
3 Devon Durrant
4 Edward Stowe
Shifter Modified Class Race 3
1 Shannon Caisey
2 David/Mark Selley
3 Devon Durrant
4 Edward Stowe
Shifter Stock Race 1
1 Jason North
2 Ryan Rebello
Shifter Stock Race 2
1 Ryan Rebello
2 Jason North
Shifter Stock Race 3
1 Jason North
2 Ryan Rebello

Read More About