The Bermuda Fire and Rescue Service [BFRS] conducted its biennial Self-Contained Breathing Apparatus [SCBA] training course this month, which had 24 members of the Department of Works and Engineering participate.
The training took place at the Tynes Bay Waste Treatment Facility, and allowed those certified to safely control and extinguish small fires that may occur in their working environment.
Lt Jay Donawa, DO Troy Furbert, Quinton Stovell, Kacey Smith, Donald Smith, John Tucker, Jason Simons, and Sgt Raymond Masters: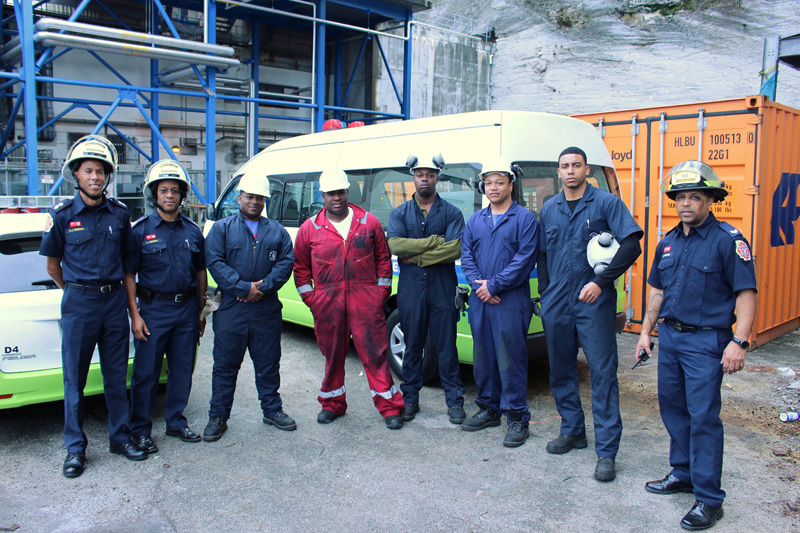 The recertification portion of the course ran from February 8-9 and 11-12, while first time trainees took part from February 15-18 this year. Of the 24 trainees who included Process Control Engineers and Mill Wrights, 16 re-certified while 8 were trained for the first time.
Trainees must show competence with the SCBA equipment under various conditions, know its components and functions, and also know routine safety checks necessary to maintain the equipment.
Sgt Raymond Masters briefs the Tynes Bay Waste Management staff of their training scenario: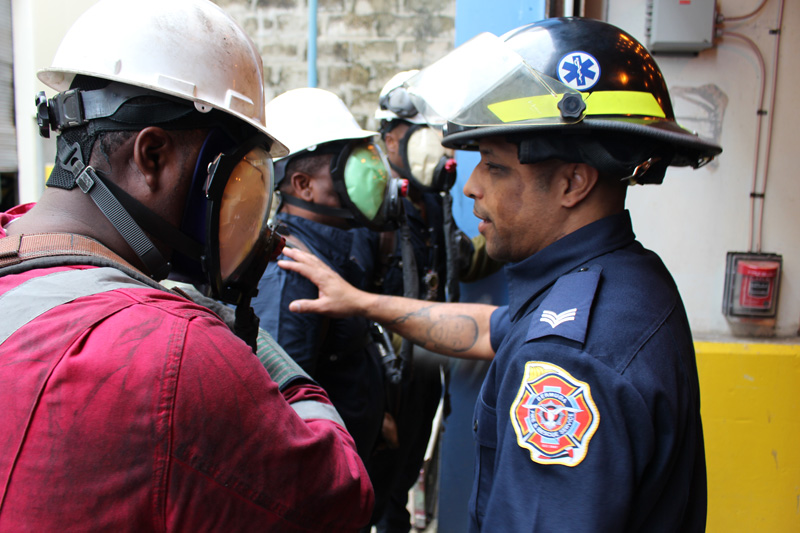 Divisional Officer of Training Troy Furbert said: "We put them under various conditions to determine if they have claustrophobia, if they can work under stress, work as a team in limited light and also with limited heat exposure."
"The fire service has worked with its key stakeholders and partners for a number of years training them in SCBA. These groups have been identified as those in critical need to have breathing apparatus capabilities within their organization in order to help mitigate small fires, and for other situations where SCBA use is required.
"In the event that a fire escalates, they would follow their procedures and call 911, and the Bermuda Fire and Rescue Service will take over as primacy."
Tynes Bay staff undergo SCBA training with limited visibility at the Waste Management Facility: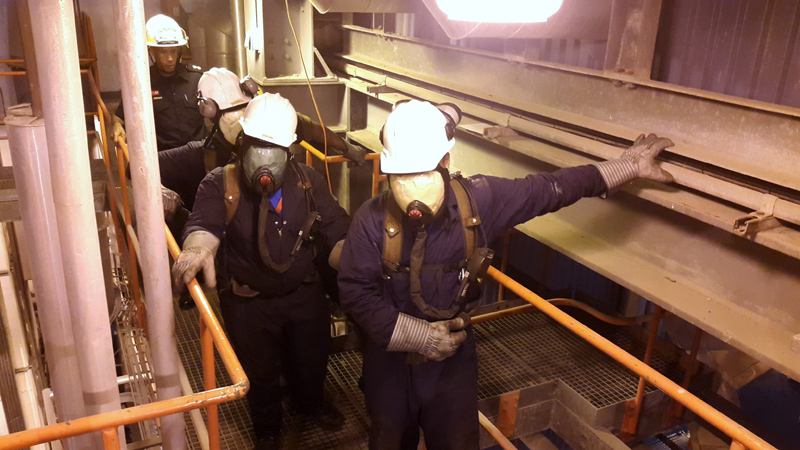 The BFRS Training Division also conducts routine checks of all SCBA packs used by its stakeholders and partners to ensure the proper condition is maintained for optimal use.
In addition to the Department of Works & Engineering, the Department of Marine & Ports and the Corporation of Hamilton also receive this SCBA training every two years.
Organizations interested in receiving this training can contact the BFRS at bfrsinfo@gov.bm to request a consultation.
Read More About
Category: Accidents and fires, All