Oracle Team USA hit another campaign milestone on Monday when the team's third AC45S test platform was rolled out of the boat shed, christened "Oracle 17", and lifted into the water for the first time.
The boat had a new wing stepped on the platform and underwent a series of system checks dockside at the team base in Bermuda. Boat 3 is expected to sail for the first time in the next suitable weather window.
"There is a big step up with this boat in terms of the systems we are developing and now testing in real world use," says design coordinator Scott Ferguson.
The new America's Cup Class boats the teams must design, build and race for 2017 need to be entirely manually powered.
Oracle Team USA's third AC45S test platform christened "Oracle 17″ by team member Luciana Corral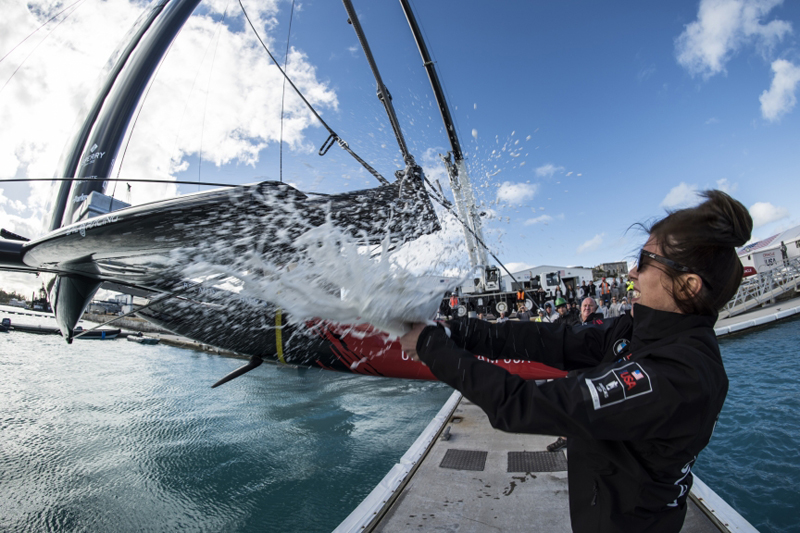 The first two AC45S boats that Oracle Team USA used had partially powered systems to test various components.
However since returning from the Christmas break the crew has been sailing boat two in manual mode.
The systems on board Boat 3 represent another step up in efficiency and effectiveness.
"We think we will see a significant jump in performance with this boat," said general manager Grant Simmer. "The systems we are testing now will translate directly into the design of the America's Cup boat we race in 2017."
Oracle Team USA designers are keeping an eye on the calendar with design deadlines for various components fast approaching.
"The design lock-in dates for the first America's Cup Class boat are staggered to a certain extent," Simmer said. "But we are coming up to the time when we need to make some hard decisions."

Read More About