Following the latest round of football action, the current standings and leading goalscorers in both divisions are below.
First Division
Somerset Eagles remain the First Division leaders on goal difference over the Flanagan's Onions both teams have 29 points, they have opened up a seven point lead on BAA, St. George's Colts and St. David's who all have 22 points. Nathan Rego from Somerset Eagles is the League Leading goalscorer with 16 goals, Clay Darrell from the Young Men Social Club has 15 on the season, while Treshun Smith from Flanagan's Onions has 10 goals, while Saki Tuzo from Young Men Social Club has scored 9 goals. Y-Ron Astwood from the Paget Lions and Khanaai Fray from Somerset Eagles both have 8 goals, Jarazhino Bassett from the St. George's Colts, Robert Rawlins from Young Men Social Club, Jahkari Furbert from BAA and Lamelle Paynter from Wolves all have 7 goals on the season thus far.
First Division Standings
29 Somerset Eagles
29 Flanagan's Onions
22 BAA
22 St. George's Colts
22 St. David's
21 Young Men's Social Club
13 Wolves
10 Paget Lions
08 X-Roads
05 Ireland Rangers
First Division Leading Goalscorers
16 Nathan Rego – Somerset Eagles
15 Clay Darrell – Young Men Social Club
10 Treshun Smith – Flanagan's Onions
09 Saki Tuzo – Young Men Social Club
08 Y-Ron Astwood – Paget Lions
08 Khanai Fray – Somerset Eagles
07 Jarazhino Bassett – St. George's Colts
07 Robert Rawlins – Young Men Social Club
07 Jahkari Furbert – BAA
07 Lamelle Paynter – Wolves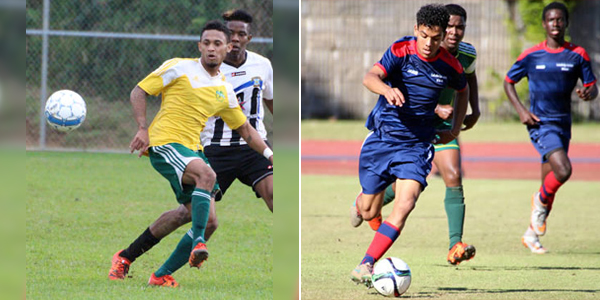 Premier Division
The Dandy Town Hornets now have a six point lead on top of the Premier Division with 31 points, Robin Hood are in second with 25 points, while the North Village Rams moved into third place with 20 points.
Lejuan Simmons from Robin Hood is the League's leading goalscorer with 10 goals, while Donavan Thompson from Hamilton Parish, is in second with 9 goals, Tomiko Goater from the Dandy Town Hornets, has 8 goals, with Casey Castle and Cecoy Robinson from the PHC Zebra, Antwan Russell from Robin Hood, Ian Coke from Boulevard Blazers and Jonathan Bean from the Somerset Trojans all have 7 goals.
Premier Division
31 Dandy Town Hornets
25 Robin Hood
20 North Village Rams
19 Boulevard Blazers
18 PHC Zebras
17 Devonshire Cougars
17 Somerset Trojans
13 Devonshire Colts
11 Southampton Rangers
08 Hamilton Parish
Premier Division Leading Goalscorers
10 Lejuan Simmons – Robin Hood
09 Donovan Thompson – Hamilton Parish
08 Tomiko Goater – Dandy Town Hornets
07 Casey Castle – PHC Zebras
07 Antwan Russell – Robin Hood
07 Ian Coke – Boulevard Blazers
07 Johnathan Bean – Somerset Trojans
07 Cecoy Robinson – PHC Zebras
06 Keishan Bean – North Village Rams
06 Eli Smith – Devonshire Colts
06 Angelo Simmons – Dandy Town Hornets
06 TiaeVince Douglas – Boulevard Blazers

Read More About